Sunday's edition of El Clásico between Barcelona and Real Madrid might have lacked the star-power and extraterrestrial individual greatness that Lionel Messi and Cristiano Ronaldo—both absent from the match for the first time in 11 years—always brought to the affair, but that doesn't mean this world-famous rivalry had suddenly lost all its intrigue and importance. And it was pretty damn intriguing to watch Barcelona absolutely flatten Real Madrid by a final score of 5-1, a result that is sure to have enormous implications for both clubs' futures.
The best sports movies according to Toheeb Jimoh
For at least a moment, though, let's say to hell with all the future implications and just luxuriate in the simple pleasures of an expertly administered ass-whoopin'. Barça were incredible yesterday. They completely controlled the match from the first minute to the last, save for a tricky 20ish minute stretch at the start of the second half when, with a little more luck, Madrid actually could've altered the entire complexion of the game. It was a joy to watch.
Everything went off just about perfectly for the home team. Barcelona's criminally under-appreciated manager Ernesto Valverde's season-long search for a new, workable playing system has finally struck pay dirt in recent weeks. Messi might have been out injured, but the 4-3-3 system with Philippe Coutinho along the forward line and emerging young Brazilian talent, Arthur, in the midfield trio remained, and it gave Barça the precise control and stability it was designed to create.
G/O Media may get a commission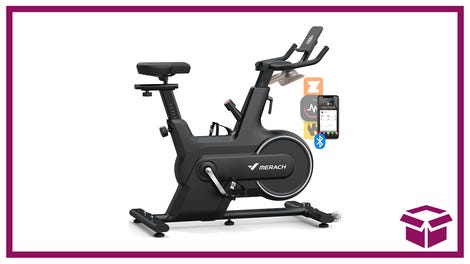 14% off + Coupon
Merach Indoor Cycling Bike
Luis Suárez was at his absolute best, bringing energy and effort and creativity and goals (he scored a hat-trick) to what was one of his finest moments in Barcelona's colors. Left back Jordi Alba was fantastic all night long and was probably Barcelona's best attacking player in their scintillating first half. Barcelona did miss Messi's creativity, which you can spot in the match's surprisingly equitable shot stats (13 for Barça, 15 for Real), but with how often Real exposed their soft underbelly in the face of Barcelona's attackers, even Barça's relatively dull knife had no problem gutting Madrid when it counted.
Though it would be hard to argue that luck played a determinative role in a four-goal beatdown, Real Madrid could feel with some justification that the lopsided scoreline didn't quite reflect the actual competitiveness of the match. Barcelona were cruising for the vast majority of the 90 minutes, true, but that 20-minute stretch of Madrid ascendency after halftime was real and extremely dangerous.
After the intermission, Lucas Vázquez came on for an injured Raphaël Varane, and Real altered their formation and approach. Real started pressuring Barcelona's ball-carriers higher up the pitch, started resisting Barça's press a little better, finally tried to prevent Alba from running unimpeded down the left wing whenever he wanted, and with more of the ball in more advanced positions, they were able to rip through Barcelona's defense at will. Marcelo's goal in the 50th minute to make the score 2-1 had been coming. The home team had fortune, a couple timely defensive interventions, and the thickness of the right goal post to thank for not conceding a second time soon after Marcelo's strike. Instead of conceding an equalizer, Barcelona made a couple useful substitutions that stemmed Real's onslaught. Soon after those changes, the Blaugrana restored their two-goal advantage with a Suárez header in the 75th minute. From there, the rout was on.
Naturally, no one likes to be humiliated by getting blown out by your biggest rival, and especially not a proud club like Real Madrid, so the fans and club leadership's fury is sure to result in some sweeping changes. First-year Madrid manager Julen Lopetegui's seat was already at a steady boil due to the team's poor form of late, and the only thing surprising about his imminent execution is that the guillotine blade hasn't technically hit his neck already. As reports from Spain and elsewhere have made clear, it's probably wiser to measure the rest of Lopetegui's stint in charge as a matter of hours rather than days—the holdup presumably being Madrid's desire to have a concrete plan on who will take over for him. Currently unemployed former Chelsea manager Antonio Conte has been everyone's big favorite to take the job, though the latest news is that he's just recently decided against the move in a bizarre late twist. It now looks like former Madrid player—and former Richard Stockton College of New Jersey student-athlete!—Santiago Solari is going to get the job on an interim basis.
If this situation feels familiar, it should. Just three years ago Real Madrid were in a very similar situation. In 2015, the club was struggling under the stewardship of Rafa Benítez, a respected coach famous for his tactical ingenuity yet lacking the personality and gravitas needed to galvanize the infamously galaxy-sized egos of the Blancos squad. In response, Real shit-canned Rafa midway through his first season and turned to Zinedine Zidane, then the manager of the club's B team. Zidane lacked high-level managerial experience, but he had thrived at the club as a player years ago and had earned the confidence of the players by working at the club in various capacities over the years. Basically everything about the Rafa Benítez-to-Zinedine Zidane handoff is also true of the presumed Lopetegui-to-Solari one. And those similarities offer hope that things could get better soon.
Of course, Real Madrid are in a bad way right now. They haven't played well in weeks if not months, and there's good reason to believe that the problems are deep and systemic. For one, Madrid thought they could ride out this season without truly filling the Cristiano Ronaldo-sized hole in the team; that was a mistake. Real Madrid must find themselves a new superstar, one who possesses the quality and ruthlessness to punish a team like Barcelona during stretches like those 20 second-half minutes when Real could've changed the tide. All-time greats don't just grow on trees, and it will take entire forests worth of paper to print enough cash to buy one or more players of the caliber Real need. Suffice it to say, it will be really hard to identify and sign exactly the kind of player Real will be after, and if they get it wrong, the mistake could limit the team's ceiling for years to come.
Along with the need to bring in something new, Real Madrid probably should start thinking about getting rid of some of the old. That this squad has managed to win three consecutive Champions League titles, and four out of the last five, is as unbelievable a feat of concentration and determination as it is one of talent. However, those reserves of mental fortitude might just about be spent at this point. If so, it could be time to ship out some of the old guard to make way for some new blood. Real could use an injection of players who've yet to taste the success guys like Sergio Ramos, Luka Modrić, and Karim Benzema have become accustomed to, players who still have the hunger to prove themselves with wins and trophies. As a corollary, maybe Real's locker room could use a couple fewer players who are so comfortable with their legendary status that they behave as if and are treated like they are bigger than the manager. It's not great when, as some reports suggest, part of the reason Conte—a phenomenal manager by any reckoning—turned down the job was because he thought the big-name players might not buy into his demanding coaching style.
But for as chaotic as things seem in Madrid right now, nobody should lose sight of the fact that the club's current state is almost certainly temporary. Again, the Benítez-to-Zidane transition is instructive. As bad as the team looked back then, Zidane's steadying hand, his charm and interpersonal tact, and his own legendary status led the team to immediate success of historic proportions. Something similar could happen again, because Real aren't that far away. The 20-minute stretch when Real were killing Barça proves that when even this Ronaldo-less Blanco squad has it going, there is nobody on Earth that can stop them.
It shouldn't shock anyone if Real follow up on the Lope fiasco by winning one or more major trophies by the end of the season, especially when none of their domestic and European rivals have looked all that fearsome themselves. And though this Real team does need more fixing than the one from three years ago—chiefly in terms of a new talisman—the club has the money and clout and allure to feasibly sign literally any player in the world not named Lionel Messi. If any club is in perfect position to rebound from all this, and to do so quickly, it's Real Madrid.
Losing to Barcelona in excruciating fashion during a relatively shitty season and needing heavy reinforcement in future transfer windows probably feels a little like death for Real Madrid and the fans who love the club. But the thing about death in the world where mega clubs reside is that it doesn't have to be permanent. Sometimes the life that follows is even greater than it was before.