Barry Bonds has been dodging, ducking and weaving the Inspector Javerts of Major League Baseball and the U.S. government for so long that it's almost second nature to him; he has moves that would make LaDainian Tomlinson envious. According to this morning's New York Daily News — which remains three steps ahead of everybody else on pretty much every steroid/amphetamines story — Bonds tested positive for amphetamines last year and, when busted, tried to blame it on a teammate.
When first informed by the MLB Players Association of the positive test, Bonds attributed it to a substance he had taken from the locker of teammate Mark Sweeney. Sources did not identify the drug in question but characterized it as a serious stimulant.
So jeez: Not only is the guy taking steroids meant for cattle, now he's doing meth! Man, we can't wait for this guy to break Hank Aaron's record! What a moment that will be!
Another fun part of the story: Bonds, in accordance to MLB's policy, was not punished for the positive test but instead "referred to treatment and counseling." Man. "Hi, I'm Barry Bonds, and I take amphet — you know, just get the fuck out of my face, dude."
It's a march for history ... coming this April!
Failure Leaves A Testy Barry [New York Daily News]
G/O Media may get a commission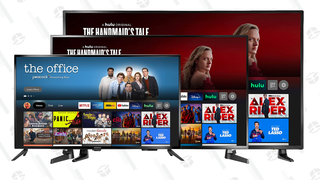 Up to 44% off
Prime Early Access - Insignia Fire TVs