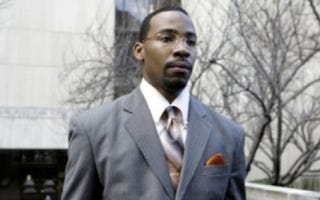 Javaris Crittenton has been something of a person of interest 'round these parts, what with his hilarious inside-joke gun standoffs with Gilbert Arenas and whatnot. Most recently, he made his way to yesterday's Wake Up Deadspin post. Specifically, the "Former NBA player charged with killing mother of four in unintended drive-by" entry.
Well, he's still on the lam so the feds are trying to bloodhound him.
The Federal Bureau of Investigation is helping police in Atlanta and Los Angeles search for a former NBA player wanted for murder.

FBI Special Agent Steve Emmett in Atlanta told The Associated Press on Sunday that the agency is involved as police look for Javaris Crittenton. Authorities say Crittenton is charged in the fatal shooting of 22-year Jullian Jones, a mother of four who was gunned down Aug. 19 in Atlanta.
Javaris Crittenton: From budding star to murder suspect [AJC]