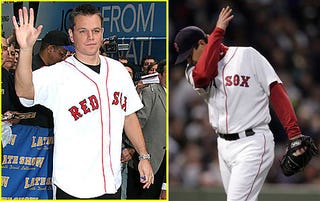 Notes from a day in baseball:
• Ocean's 7 1/2. They still own a substantial amount of real estate atop the AL East, but you gotta know that deep down, Red Sox fans are shivering in naked fear. Matt Damon tried to maintain an air of confidence while appearing on The Late Show with David Letterman last week, but we know that his bravado was built on landfill. After Letterman pointed out that the Yankees had beaten the Sox thaht day, Damon replied "Ten more of those an they'll be in second place." Well, make that 7 1/2 and first place, actually. Hey, we're just sayin'. On Thursday Garrett Atkins was 3-for-5 as the Rockies beat the Red Sox 7-1; Boston's third loss in four games. Kaz Matsui also had three hits for Colorado as Josh Beckett (9-1) took his first loss of the season. Jeff Francis (6-5) was the winner. Meanwhile, Andy Pettitte pitched the Yankees to a 7-1 win over the Diamondbacks; New York's ninth straight win. Here's Arizona's scouting report, which did them little good, but it's funny that they left it lying around.
• I'm Not Takin' Him To The Airport! The Mets, 1-9 in their past 10 games and now just two games ahead of the Phillies, get Roger Clemens tonight. Philadelphia is at home against Detroit tonight, and will go against Justing Verlander on Sunday. Fun!
• Ben Folds Seven. The Brewers, after being no-hit by Verlander the day before, beat the Tigers 6-5 on Thursday. Corey Hart homered and Ben Sheets struck out seven to become the second pitcher in team history with 1,000 career strikeouts. Who was the other?
• Santana Finally Catches A Break. Rock. Bob Wickman, please report to the principal's office. Wickman blew the save after Tim Hudson's strong start (hey, no shoving!), giving up three in the ninth as the Twins beat the Braves 3-2. Johan Santana had gone seven good innings with no support, but Mike Redmond's run-scoring single helped get him off the hook.