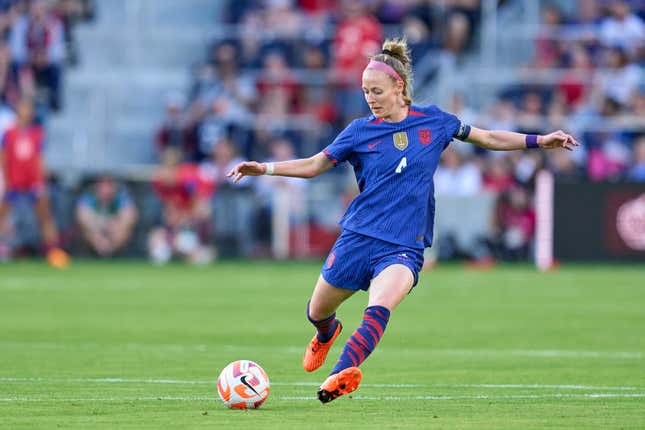 The women's World Cup continues to be a battle of attrition, even if it doesn't start for another month. All the major powers are heading to Australia and New Zealand next month, seemingly with one hand tied behind their back, either through injury or strife within their programs (Canada and Spain). The US had seemingly dodged the major wounds until recently. But then Mallory Swanson was lost. Then Catarina Macario announced she won't get to full health in time. And now Becky Sauerbrunn has announced she won't make the tournament either. And all of this while Rose Lavelle is still dealing with an injury absence, and Julie Ertz races to find form after missing two seasons.

France or Argentina? Who wins the FIFA World Cup? | Agree to Disagree
Sauerbrunn deserved a better sendoff
Sauerbrunn's absence is a kick in the feels as well, maybe even more so than what her absence on the field will mean. She is the captain of the team, the longest-serving player who would have suited up, and obviously at 38 this was her last World Cup. A player who has served as often and as ably as Sauerbrunn has for the national side deserves a sendoff on the field, whenever that comes for the USWNT, instead of essentially calling time on her international career via press statement. It's not fitting for such a decorated and celebrated player.
But like most spots for the USWNT, it's a gap they can fill, it just erodes the depth a bit. At this point, Alana Cook — the most likely to step into the starting 11 if she hadn't already — is a better player than Sauerbrunn. The latter had looked especially ropey against top tier opposition of late, especially last fall against Spain's B-team that walked to a 2-0 win over the US. Sauerbrunn just doesn't defend in space well anymore, and given that the US should be playing on the front foot a lot at the World Cup, this is an issue.
Cook has been one of the better centerhalves in NWSL this season, and according to American Soccer Analysis (whatever your mileage on soccer analytics might be) no centerback has been a better passer out of the back than Cook. Given the problems the US has in midfield, both in terms of personnel and figuring out how to build moves through it with the ball, having two centerbacks in Cook and Naomi Girma who can just ping accurate balls over the midfield to the various Yank forwards who all are lighting fast is a neat toy to have.
But, much like Swanson's injury in the front line, Sauerbrunn's in the back erodes depth. Behind Cook and Girma now is basically Emily Sonnett from recent squads. Casey Krueger has been dynamite for a Chicago Red Stars team this year that hasn't had a lot of highlights. Her teammate Tierna Davidson has returned this season from her own knee injury, but last time we saw her with the national team she was pretty iffy when pressed at the Olympics. There isn't a lot proven behind that, and the solution that we saw a lot of four years ago of sticking Julie Ertz back there is pretty dicey when she's missed so much time and is also badly needed in midfield.
This isn't a question any of the other favorites at the tournament aren't dealing with obviously, which makes it kind of ludicrous that the women's tournament is restricted to 23 players when the men's one back in the winter had 26-strong squads. But this is yet another case of screaming at the wall that is FIFA and the women's game.
Certainly Sauerbrunn's experience will be missed, as the US will be navigating the tournament with, likely, a centerback pairing that hasn't done it before. They should be flanked by experience with Crystal Dunn and a couple choices at the other fullback spot who have been there and done that before, and Alyssa Naeher behind them as well. That's about as buffeted as you can get when wading into the World Cup waters for the first time (especially if Ertz can reestablish herself as the hammer in front, but again, big ask). Vlatko Andonovsky was probably hoping for more rotation options, because once a team hits the knockouts it can be a grind.
Both in the front and the back now, the US seems to be getting to that line from Apollo 13, "We'll be all right if we don't lose another one." Let's hope it doesn't get that drastic.