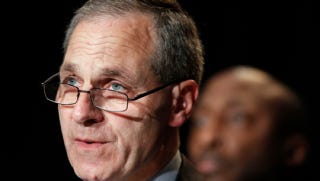 That's according to what two members of the university's Faculty Council who had met with Freeh last week told ESPN. Freeh, the former director of the FBI, had promised "complete independence" when he was hired by the school in the weeks after the Jerry Sandusky scandal broke. This is from ESPN:
But Freeh held a one-hour, closed-door meeting with Penn State's Faculty Council on Jan. 10 and told faculty members that he intended to turn over his preliminary investigative report to the Special Committee of the Board of Trustees for their input, two attendees of the meeting told "Outside the Lines." After making revisions to the report, Freeh told the Faculty Council that he would then provide a second draft report to the trustees' special committee.

Freeh's investigative report into the worst scandal in Penn State's 156-year history will be made public after the second draft is reviewed by the board, he told the Faculty Council. Freeh's report will include recommendations for changes.
The two senior faculty members also said Freeh told them he would not bring in polygraph experts, and that he kept referring to the work he was doing on behalf of his "client," which is—you guessed it—Penn State's Special Committee of the Board of Trustees.