My god, what did we just watch. The game of the tournament, certainly, and probably one of the best matches in recent World Cup history. All I know for sure is that Belgium beat Brazil today, 2-1, in a quarterfinal that had all the intensity, insanity, momentum-swings, and amazing plays that make following this entire dumb spectacle worth every second.

The best sports movies according to Toheeb Jimoh
Christ, what is there even left to talk about after watching that. I guess we have to start on the Belgian side. Holy shit, did every single one of them have the game of their lives or what. First let's give props to their oft-criticized manager, Roberto Martínez, who overhauled the tactics that got them so far in such impressive fashion and was vindicated beyond what anyone could have expected.
Belgium, during qualifying for this tournament and at the World Cup itself, have played almost exclusively in an adventurous 3-4-3 formation that packs the pitch with attackers and seeks to dominate the ball. When that strategy hasn't worked, Martínez has most commonly tweaked things into a more traditional 4-2-3-1 that essentially does the same while in theory simplifying the roles he asks his players to fulfill.
Today, in response to the troubling defensive frailty that Japan, of all teams, took advantage of in the Round of 16, Belgium came out in an entirely new setup that would either prove suicidal or genius. In for the 3-4-3 was a 4-3-3 that saw Romelu Lukaku, the team's big, strong, target man of a striker, playing on the right wing, Kevin De Bruyne, the versatile attacker who's spent most of time at the World Cup in a central midfield duo, in the center forward spot as a false 9, and Eden Hazard taking up his more traditional place as a left-sided forward. The crazy part wasn't just that two of Belgium's three best players were playing out of position—and Lukaku and KDB weren't the only ones doing so, with central defender Jan Vertonghen playing at left back and, even stranger, winger Nacer Chadli taking up a spot as a sort of central midfield/left wing hybrid—but also that all three of the Red Devils' forwards were sitting so high up the pitch at all times.
G/O Media may get a commission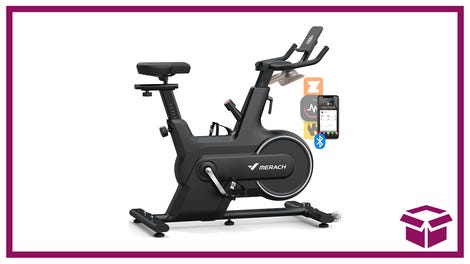 14% off + Coupon
Merach Indoor Cycling Bike
Belgium planned to grant Brazil possession of the ball, hope the seven defenders and midfielders could nick it off Brazil from time to time, and when that happened, hit it up to one of the front three who would then strike out on the counter. Lukaku bearing down on the inside-right channel, Hazard jinking his way down the left, and De Bruyne popping up everywhere depending on which spot in front of Brazil's defense was most vulnerable. It was something of a throwback to Martínez's wild lineups as manager of Everton, where he sometimes put then-Toffee Lukaku out on the wing to destroy an overmatched full back, only with the craziness dialed up about ten notches in the biggest match of his career. It was an extremely high risk/high reward tactic. And it worked to perfection.
It took a while for the dynamics of the two teams' clashing tactical strategies to fully manifest. The first 20 minutes or so made for a pretty open game with chances flowing in both direction, with Brazil arguably having the better of things. Belgium did score first, from a fortuitously deflected cross that hit off Fernandinho's arm and into his own goal 13 minutes in, but before and for a little while after that goal, Brazil confidently created dangerous chances just about every time they went forward. Then this happened:
In this one attack, you can find just about everything that made Belgium's flabbergasting performance so effective. Lukaku's strength to shrug off João Miranda, whose attempts to contain Lukaku during the duration of the match more closely resembled Greco-Roman wrestling than soccer, his ability to hold up the ball to relieve Belgium's beleaguered defenders of their duties and allow his fellow attackers time to spark a counter, his speed and shiftiness with the ball at his feet to carry it through the heart of Brazil's scrambled defense. (Seriously, this move might not be quite as visually arresting as his off-ball running that cleared the way for Chadli's winner in the Japan game, but it is infinitely more impressive.) The running of De Bruyne, his bomb-detonating right foot that blasted the ball into the net. The outrageous speed of the Belgian counter, the immediacy of it with two of either Lukaku, De Bruyne, or Hazard always poised to sprint behind Brazil's back line, especially down the right flank behind Marcelo. It was a battle tactic of ingenious design, aimed precisely at the enemy's weakest points, and expertly executed by the generals on the field. Belgium's first half was pure, uncut destruction, and it was all of Martínez's making and their front line's doing.
Brazil would not collapse like they did four years ago against Germany, however. They came out in the second like a whole new team. Roberto Firmino came on for Willian at halftime and Douglas Costa joined him on the pitch, subbing for Gabriel Jesus, not too long after. With Brazil's two worst-performing forwards at this World Cup off for two superior players, and with Miranda and Thiago Silva's herculean efforts to limit the counters that emerged from Lukaku's and Hazard's phenomenal wing play, the Seleção roared to life.
The shortcomings of Belgium's strategy were more evident during the second half, as their midfield and defense were outnumbered and overrun when Brazil came at them with the ball. Brazil squeezed Belgium deep into their own territory, and while they still found it hard to create any clean-cut chances, the Brazilians were able to combine with each other and crowbar their way into Belgium's penalty area pretty regularly. Belgium's deep players parried almost every Brazil attack with some heroic last-ditch defending, though, and Thibaut Courtois had a damn near perfect game. Brazil dominated the second half and did pull to within a goal after another brilliant Philippe Coutinho chipped pass, but the World Cup favorites couldn't find salvation in the form of a second goal and eventually fell.
Coming into the tournament, the biggest advantage Brazil had over their competitors was three-fold: their very good coach, their world-class squad, and their world-beating superstar, Neymar. International soccer at the highest level is a game of smart, simple tactics handed to a team full of really good players that hopefully present the team's one or two best players enough opportunities to make the difference between winning and losing. Most international teams don't have particularly good coaches, can't implement a good tactical setup in the limited time handed to them, don't have particularly deep reservoirs of talent, and either don't have good enough stars to win close games or find that their stars are let down by their inferior teammates. Even when teams have a couple of those things, it's almost impossible to make a deep run in the tournament without them all.
Brazil are a different story. Tite, Brazil's manager, did draw up just those kinds of tactics and turned them over to just that kind of good squad that combined to create enough opportunities for the star to win games, and both Neymar and especially Coutinho answered the call with enough well-timed interventions to get Brazil through. Even today, in their sole loss of the tournament, Brazil easily could've won with a little more luck and a helpful whistle or two. This wasn't the exposure of a fraud, it was a great team firing at close to all cylinders.
And yet while Brazil did, in my mind, demonstrate that they are indeed the best national team in the world right now with their exploits in Russia, they were outdone by a better managerial performance that got the literal best out of each and every one of the very good Belgian players and created even more, better chances for their stars, playing the games of their lives, to come through in the moments that earn teams victories.
The better team probably lost today, but they did so against a great team that did every single thing right, from the sideline to the pitch and everywhere in between. These kinds of exhibitions of athletic greatness and strategic genius are exactly what the World Cup is meant to result in, the pressure of the biggest sporting event in the world compressing diamonds into even brighter, sharper diamonds that are then hurled at each other and explode in a dazzling eruption of light and wonder. If the 2018 World Cup doesn't conjure up a better game than Brazil vs. Belgium, it will have still been a tournament that rewarded every ounce of our attention with everything we could've hoped for. And there's even more to come.