Today, Ben Sheets announced that he will start for the Braves tomorrow against the Pirates, and then retire. Tomorrow will mark Sheets's fifthninth start for the Braves this season after missing nearly two calendar years with a torn flexor in his pitching elbow.
Sheets will probably be best remembered for his breakout 2004 campaign in which he struck out 264 and walked just 32 in 237 innings pitched. Unfortunately, Sheets finished just 8th in Cy Young voting that season, because the Brewers sucked so bad, allowing that jerk Roger Clemens to win again.
He will likely also be remembered for the unfulfilled promise of that 2004 season, as Sheets became chronically injured and never eclipsed 200 IP again.
Still, Ben Sheets has had a good career, appearing in four all-star games and starting in one. He won a gold medal at the 2000 Summer Olympics and is one of just 18 pitchers to strike out 18 or more batters in a nine-inning game.
Perhaps most importantly, after a career that seemed destined to end on Sheets's latest and worst injury, he's going out on his own terms.
G/O Media may get a commission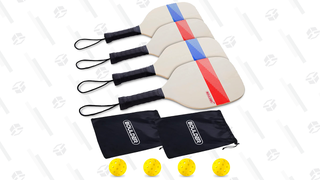 It's Pickleball
Pickleball Sets
via: @mlbbowman