Welcome to Better Know An Umpire, an effort to educate ourselves on the human elements who have ultimate decision-making power over some 2,500 Major League Baseball games a year. (All cumulative statistics are through the 2011 season, unless otherwise stated.)
Name: Chad Fairchild
Uniform number: 75
Age: 41
Height/weight: 6-foot-3, 200 pounds
First year as MLB umpire: 2004
Total MLB games worked through 2011: 828 (home plate: 192)
Previous experience: Gulf Coast League, New York-Penn League, South Atlantic League, Florida State League, Southern League, International League
Career ejections: 20
No-hitters called: None
Over/under record (2004-2011): 69-73
Hated in: Tampa, Atlanta, Philadelphia
Notable alleged blown calls: Tigers-Braves, June 23, 2007; Cubs-White Sox, June 29, 2008; Phillies-Marlins, September 4, 2011; Rays-Red Sox, July 17, 2011.
G/O Media may get a commission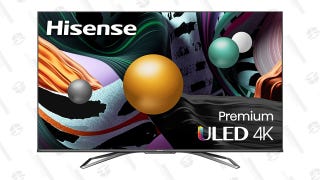 Save $350
Hisense ULED 65" Android 4K HDR Smart TV
Claim to fame: Getting whacked in the head by David Ortiz's bat last July and cursing on ESPN Sunday Night Baseball.
Scouting report from Major League Umpires' Performance, 2007-2010, by Andy Goldblatt:
It's hard to conclude whether he favors pitchers or hitters or is neutral because his four-year totals are all over the map. ... On the basis of his high R/9, he's rated a hitters' umpire.
Scouting report from CBSSports.com's Matt Snyder:
Joe West, Angel Hernandez, Chad Fairchild and Paul Schrieber are the worst umpiring crew in the majors, and it's not even close. If it was simply a competence issue, that might be a bit less of a problem. You can fix incompetence through more training. No, the problem is way worse. It's a crew that has a mental issue in terms of being accountable and lacking the most needed skill in officiating a sport.
Average K/9 (2011): 13.8
Average BB/9 (2011): 7.0
Sample PITCHf/x strike zone: July 31, 2007. Tom Glavine was attempting to win his 300th career game and had more than two dozen family members in attendance in Milwaukee, but Fairchild's tight zone (especially outside to right-handed batters) dogged Glavine, who got a no-decision.
True fact: Was not named a full-time MLB umpire until 2010, after 13 years of work in the minor leagues.
On umpiring: "It's like hitting a lottery ticket, but still loving to go to work."
Strike 3 call:
To check out other installments of Better Know An Umpire, click here.