Welcome to Better Know An Umpire, an effort to educate ourselves on the human elements who have ultimate decision-making power over some 2,500 Major League Baseball games a year. (All cumulative statistics are through the 2011 season, unless otherwise stated.)
Name: Dana DeMuth
Uniform number: 32 (crew chief)
Age: 55
Height/weight: 6 feet, 230 pounds
First year as MLB umpire: 1983
Total MLB games worked through 2011: 3,591 (home plate: 908)
Previous experience: Arizona In­struc­tion­al League, California League, Texas League, Pacific Coast League, Colombia Winter League, Dominican Winter League
Career ejections: 39
No-hitters called: None
Over/under record (1999-2011): 200-188
Hated in: The Bronx
Notable alleged blown calls: Royals-Yankees, August 17, 2011; Orioles-Rangers, May 19, 2010; Rays-Red Sox, July 18, 2005.
G/O Media may get a commission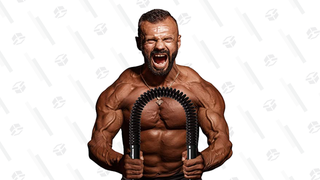 10% off
Zenooze Boa Power Twister
Claim to fame: Aside from his umpiring, not much at all is known about the reclusive DeMuth. His LinkedIn profile confirms he lives in Lincoln City, Oregon, and not much else.
Scouting report from Major League Umpires' Performance, 2007-2010, by Andy Goldblatt:
Although he may not be consistent, when his numbers are blended together he looks middle-of-the-road. ... The only reason he's listed as a hitters' umpire is because of [his] high R/9. ... He has compiled an ejection rate of just over one percent, less than half the major league norm.
Scouting report from Newsday's Erik Boland:
Crew chief Dana DeMuth declined to comment to a pool reporter. That's arrogant and gutless. Have to come out in that circumstance
Average K/9 (2011): 12.9
Average BB/9 (2011): 6.9
Sample PITCHf/x strike zone: September 1, 2010. Jorge Posad was ejected for arguing a called third strike. Indeed, DeMuth's strike zone was very liberal that night, especially outside to left-handed batters.
True fact: President Obama stopped by the umpires' locker room before the start of the 2009 All-Star Game and met the crew—except for DeMuth, who could not be found. "Where's Dana? Where's the chief?" Obama asked, to no avail.
Strike 3 call:
To check out other installments of Better Know An Umpire, click here.