Welcome to Better Know An Umpire, an effort to educate ourselves on the human elements who have ultimate decision-making power over some 2,500 Major League Baseball games a year. (All cumulative statistics are through the 2011 season, unless otherwise stated.)
Name: Jim Reynolds
Uniform number: 77
Age: 43
Height/weight: 5-foot-11, 185 pounds
First year as MLB umpire: 1999
Total MLB games worked through 2011: 1,642 (home plate: 408)
Previous experience: New York-Penn League, South Atlantic League, California League, Eastern League, Southern League, American Association, International League
Career ejections: 28
No-hitters called: None (Umpired second base during Roy Halladay's 2010 perfect game)
G/O Media may get a commission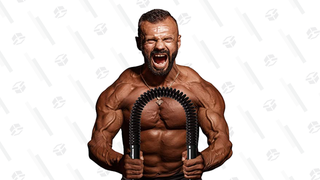 10% off
Zenooze Boa Power Twister
Over/under record (1999-2011): 194-165
Hated in: Northeast Texas, Los Angeles, Denver
Notable alleged blown calls: Twins-Royals, August 12, 2009; Dodgers-Rockies, Sept. 19, 2010; Rangers-Yankees, October 19, 2010 (Game 4, ALCS).
Claim to fame: Was one of 25 replacement umpires hired in 1999, following mass resignations offered by the union.
Scouting report from Major League Umpires' Performance, 2007-2010, by Andy Goldblatt:
His strike zone is clearly pro-pitcher, but run production when he's behind the plate is clearly pro-pitcher. Reynolds has the eighth-highest R/9 for the period under study at the same time he's in the top third in K/BB. ... His career ejection rate is a below-average 1.8 percent, and has dropped to 1.2 percent since 2007.
Scouting report from the New York Post's Ken Davidoff:
RF ump Jim Reynolds is having a rough night. Before the game, he used his salad fork for his steak.
Average K/9 (2011): 14.0
Average BB/9 (2011): 5.9
Sample PITCHf/x strike zone: May 4, 2012. During last Friday's 13-inning game between Boston and Baltimore, Reynolds' tendency to call outside strikes to right-handed batters was clear.
True fact: Has a degree in journalism from the University of Connecticut. Also, once rescued a distressed bird from the field by scooping it into his mask.
On umpiring:
Every day I have a responsibility to get better even though I'll never be perfect. I will say this, there is nobody in the ballpark when I miss a call who feels worse than I do. I'll never apologize for missing a call because it won't be because I was lazy. But it's not for lack of trying or hustle. I treat every game like the seventh game of the World Series. You learn in a hurry in this job that you can be the lead story on Sportscenter whether you're working the plate in a Yankees-Red Sox game or at third base in a D-backs Pirates game.
Strike 3 call:
To check out other installments of Better Know An Umpire, click here.