Welcome to Better Know An Umpire, an effort to educate ourselves on the human elements who have ultimate decision-making power over some 2,500 Major League Baseball games a year. (All cumulative statistics are through the 2011 season, unless otherwise stated.)
Name: Marvin Hudson
Uniform number: 51
Age: 48
Height/weight: 5-foot-10, 215 pounds
First year as MLB umpire: 1998
Total MLB games worked through 2011: 1,674 (home plate: 414)
Previous experience: Appalachian League, South Atlantic League, Florida In­struc­tion­al League, Florida State League, Southern League, Hawaiian League, International League
Career ejections: 35
No-hitters called: None
Over/under record (1999-2011): 188-179
Hated in: Cleveland, Detroit
Notable alleged blown calls: Mets-Nationals, April 27, 2011; Mariners-Royals, April 17, 2011.
G/O Media may get a commission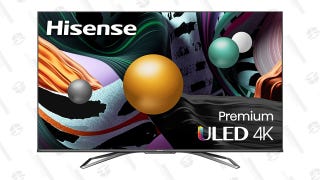 Save $350
Hisense ULED 65" Android 4K HDR Smart TV
Claim to fame: Was the home plate umpire for Armando Galarraga's near-perfect game on June 2, 2010, made infamous by Jim Joyce's blown call at first.
Scouting report from Major League Umpires' Performance, 2007-2010, by Andy Goldblatt:
Since becoming a full-time major league umpire, Hudson has been amazingly durable. In a profession where concussions, bad backs, and aching knees are endemic, he's barely missed a day, working at least 133 games in all 11 of his full-time seasons. ... Pitchers might argue that Hudson's plate stance puts them at a disadvantage ... [though] Hudson's four-year R/9 is neutral.
Scouting report from angry (and possibly psychotic) Mets fan:
Umpire Marvin Hudson should be taken out back and shot. Horrible fucking call. ‪#mets‬
Marvin Hudson should be fired for that call. What a fucking retard ‪#mets‬
Reyes got fucked in the ass by Marvin Hudson with no reach around. ‪#mets‬
This just in, Marvin Hudson had a mini stroke during that Reyes play ‪#mets‬ ‪#yearight‬
Average K/9 (2011): 14.0
Average BB/9 (2011): 5.2
Sample PITCHf/x strike zone: April 14, 2012. One Giants blogger thought Hudson's strike zone to be "as small as Bruce Bochy's head is freakishly enormous."
True fact: Is a member of the Optimist Club of Athens (Georgia). The organization's creed is as follows:
To be so strong that nothing can disturb your peace of mind.
To talk health, happiness, prosperity to every person you meet.
To make all your friends feel that there is something of value in them.
To look at the sunny side of everything and make your optimism come true.
To think only the best, to work only for the best, and to expect the best.
To be just as enthusiastic about the success of others as you are about your own.
To forget the mistake so the past and press on to the greater achievements of the future.
To wear a cheerful countenance at all times and give every living creature you meet a smile.
To give so much time to the improvement of yourself that you have no time to criticize others.
To be too large for worry, too noble for anger, too strong for fear, and too happy to permit presence of trouble.
On umpiring:
You want to get in the slot and get as low as you can. I like to try to get my head down next to the catcher's ear.
Strike 3 call:
To check out other installments of Better Know An Umpire, click here.