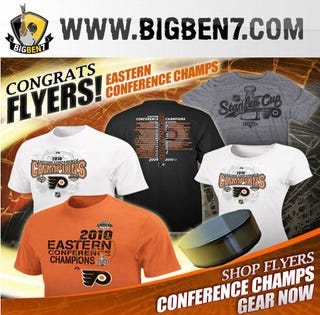 Because no one reads the newspaper, and SportsCenter's anchors are too perky for this early in the morning, Deadspin combs the best of the broadsheets and internets to bring you everything you need to know to start your day.
* Where else would you stock up on Flyers Stanley Cup gear than the official site of Pittsburgh's grabbiest All-Pro football player? It's perfect for the self-loathing Western Pennsylvanian or, you know, any really obnoxious truck lover. [Mondesi's House; image via reader D.J.]
* Orlando is trying to "eliminate" Boston from the playoffs ... one Celtic at a time. I guess the goal is to keep the series going long enough that they have to forfeit due to lack of players. [AP]
* Ozzie Guillen calls umpire Joe West a "fucking asshole" after he ejected both the manager and Mark Buehrle for arguing balks. Seriously, what kind of asshole makes up a fake rule like "balk"? That's right ... a fucking asshole. [Chicago Sun Times]
* Eddie Kenison says that Dwayne Bowe told him that he never even spoke to any writer from ESPN The Mag and couldn't have shared that story about importing chicks to San Diego. What? Now you gonna call Eddie Kenison a liar? [Brooks]
* * * * *
Now, if you'll excuse me, I've got a date with the CBS Early Show.... Right after I beat up some '80s Nazis!