On Thursday, Justin, a senior at GCSU, snapped a photo of Ben Roethlisberger with a young woman. As with a lot of things that night, that photo's now the subject of innuendo and insinuation, some of it, Justin says, misguided.
Milledgeville is a small college town in central Georgia where about one in four people are undergraduates. Like most of this country's scholars, the kids at GCSU spend a lot of their free time getting shitfaced. "Thursday night's the night to go out and party, so Thursday night's normally pretty busy downtown," Justin says. And when Justin heard Ben Roethlisberger was partying in "Millyvegas," the strip of bars near campus, his first thought was, "No way, I got to go see him," he says.
Justin got to The Brick at "about midnight" and saw Roethlisberger and teammate Willie Colon accompanied by two large men that he described as "kind of like bouncers." Roethlisberger's "bouncers" apparently had their work cut out for them. Justin says a large crowd had gathered around the quarterback, who gamely posed for pictures and bought drinks for his fans. Seeing the star quarterback caught up in this mix of co-eds and free-flowing liquor suggested to Justin that "it probably wasn't a good idea for him to come to a college town on a Thursday night."
Witnesses have offered varying descriptions of Roethlisberger's night out in Millyvegas. On Sunday, we found a few local bartenders who said people were "all over" Roethlisberger and that he was being "molested" by female bargoers. Other accounts allege that Roethlisberger was aggressive with women in his group.
G/O Media may get a commission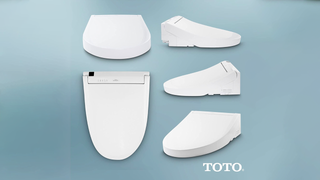 44% off
Toto Washlet Electronic Bidet Toilet Seat
Justin disputes that. He says he saw no unusual behavior in Roethlisberger's crew. "There was a disturbance just because he was there... but he wasn't really causing a scene or being rough with anybody," he says. Though Roethlisberger was allegedly drinking "a lot" of fruity tequila cocktails, according to the bartenders, Justin says he "didn't seem drunk at all."
The Brick wasn't the last stop on Roethlisberger's Milledgeville bar crawl. His next stop was reportedly Capital City, and he was supposedly accompanied by a group of GCSU students. "I didn't see him leave with anybody other than his bouncers and Willie Colon — just the four of them," Justin says.
Before Roethlisberger and his entourage left The Brick, Justin took three blurry pictures with his cell phone to put on Facebook. One of his shots shows Colon standing behind the bar:
In another, Colon and Roethlisberger are sitting together in front of a tight crowd.
Justin captioned the third photo, "Big ben mackin on some chick." It shows Roethlisberger with a blonde woman at his side:
Justin's photo popped up in our tips box and on several online forums that suggested the woman in the picture is Roethlisberger's accuser. Justin doesn't think he photographed the quarterback with his accuser. He says the girl he saw with Roethlisberger "had a boyfriend at the bar." Other photos from the sets posted online by TMZ have been rumored to show Roethlisberger's accuser, but those claims are disputed on GCSU messageboards. TMZ ran a tease of a story saying that the site had "a photo of the two taken at Capital City bar shortly before the alleged incident," but that it "will not post the picture in this story." According to the GCSU rumor mill, Roethlisberger's accuser is a member of the Zeta Tau Alpha sorority. Justin says he doesn't think the girl in his picture is the Zeta in question, though he is "not familiar with too many Zetas."
Nor will anyone else be, if the Zetas have their preference. Other GCSU students say Zeta sisters have tucked their Facebook profiles behind privacy walls in the past few days. Several profiles of ZTA members have been taken down altogether. The main Facebook page for GCSU's Zeta Tau Alpha chapter has also disappeared. A ZTA Twitter account that was linked to the Facebook page hasn't been updated since a few hours before the alleged assault. We emailed many of the GCSU Zetas to ask about the rumors, but haven't received any responses so far.
For now, all we really know of the Roethlisberger's accuser is that, per TMZ, she dropped out of school and moved back in with her parents this weekend. A spokeswoman for GCSU tells us, "I can't confirm the status of the young lady."
We ask if Roethlisberger's accuser or her sorority could face disciplinary action for underage drinking (a prospect, one might speculate, that would dissuade someone from going public with groundless claims). "I'm not going to comment on that at all," she says.