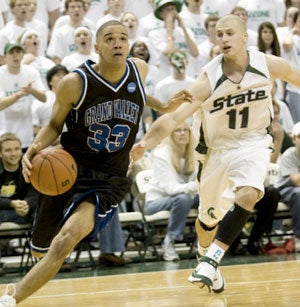 Well it's about damn time a Big Ten favorite loses their first game of the season to a championship-caliber team from a smaller division. Grand Valley State, who made it to last year's Division II Elite Eight round (only to lose on a buzzer-beater), took an exhibition game way too seriously and won 85-82, in double overtime against the 8th ranked Michigan State Spartans.
But it's just an exhibition game, so technically it doesn't count against the Spartans' record. So I could be wrong, but that means it won't count according to the computers, but I'm sure the pollsters are not blind to it.
Unlike the Michigan-Appalachian State football game, Drew Neitzel's "field goal attempt" wasn't blocked, he just plum missed it. But like the UM-App State game, this one was also broadcast on the Big Ten Network. I'm not saying the BTN is cursing the conference, because curses are unquantifiable by the scientific method. What I am saying is the BTN is performing a variant of the Tenth Plague on the Big Ten. Instead of killing each coach's firstborn, they're killing a team's season with the first game of the year against teams from piddly divisions.
Ohio State football plays Youngstown State to kick off the 2008 season. Maybe Columbus won't want to have the Big Ten Network next year after all.
GVSU Stuns MSU in Double OT [Grand Rapids Press]