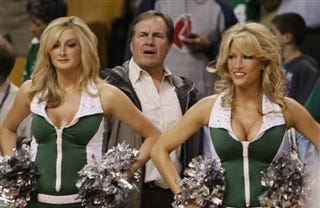 Got an image you'd like to see in here first thing in the morning? Send it to tips@deadspin.com. Subject: Morning crap.
And by that I mean basketballs, of course. And who can blame him? The Celtics have won 13 straight; even if Kevin McHale were their coach I don't think it would stop them at this point. Boston beat Washington 122-88 on Thursday and as Vent On Sports points out, have beaten opponents by an average of 14 points during the winning streak. At 21-2, they may never lose again.
Yes, we all laughed at Bonzo Bonham. But could he have actually been the wisest of all?
Celtics Keep On Rolling [Vent On Sports]