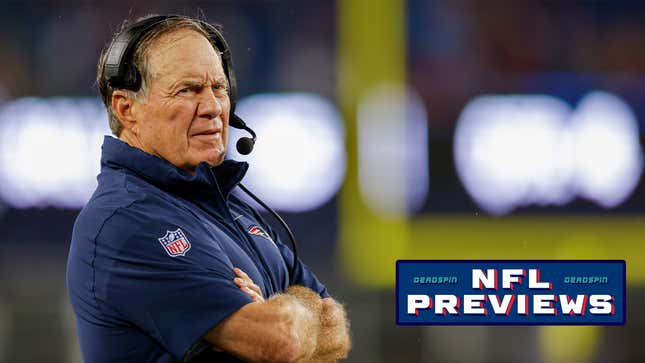 The Ezekiel Elliott signing was a solid move by Bill Belichick. Elliott may no longer be the athlete who cleared opposing defenders the way that he cleared high hurdles as a high school track and field star, but he is still a football player who can contribute to a winning team. Any extra depth is welcome for the New England Patriots, especially on offense.

Has Bill Belichick lost his touch? | Agree to Disagree
On that side of the ball, they were one of the worst teams in the NFL last season. Per weighted DVOA, the Patriots had the sixth-worst offense in the league. They spent money on all of the wrong pass catchers and Mac Jones regressed in Year 2.

Belichick was still able to put together one helluva defense that kept the Patriots in the playoff hunt throughout the 2022 season. The entire AFC East has again improved while the Patriots added a splash of JuJu Smith-Schuster here and Mike Gesicki there. Going into the 2023 season, the Patriots are predicted to be the worst team in their division — an uncommon place for a Belichick-coached team.

In fairness, since Tom Brady left the AFC East has steadily improved as a division for the first time since he was at Michigan. Even the New York Jets have an impressive roster. However, it is not solely the improvement of AFC teams up and down I-95 that has the Patriots looking up at teams they have dominated for nearly 20 years. Belichick's own hubris may become the downfall in the late stage of his career.

What he did last season should not result in him being held back from a first-ballot Hall of Famer. His defensive genius alone is worthy before the Super Bowl rings are even discussed. In that big discussion of the greatest NFL coach of all time though, Belichick has to be docked points for entering a season with no offensive coordinator or quarterbacks coach.

That was institutional malpractice. Even if Brady was still his starting QB, having no true offensive support staff around him would be an absurd decision. Brady would have shattered every Microsoft Surface Tablet in Massachusetts, and maybe Rhode Island as well.

Joe Judge and Matt Patricia were delegated the responsibility of running an NFL offense. Neither of them had ever even been a running backs coach. As much of a disaster as that was at face value, add on the fact that Jones was in his second year as an NFL player. Opposing defenses were going to adjust to him, and he needed some professional offensive coaching to counter. A pencil and a laminated play sheet were certainly not going to guide him to success.

To fix the offense this season, Belichick decided to bring in Bill O'Brien who was the Patriots' offensive coordinator when they lost the Super Bowl to the New York Giants in 2011. O'Brien is not a terrible hire. It's not like Belichick or Bob Kraft is going to give O'Brien the authority to ruin the franchise like the Houston Texans did. His job is to make the offense functional again.

The move is also uninspired. Judge and Patricia got their jobs last year because they had worked many years under Belichick in the past. Josh McDaniels left for two seasons to coach the Denver Broncos early in the previous decade, and later stayed with the Patriots as offensive coordinator from 2012-2021. The defensive coach who wears the headset on the sidelines for the Patriots is Belichick's son Steve.

We all like to work with people who we are comfortable with, but that is not always the answer to success. Especially not for Belichick who is still trying to doggy paddle his way through life without Brady. A little innovation in the staff could be helpful, as well as some major free-agent signings.

Matthew Judon was a great signing, but again that was a typical bargain pickup. He blew up with the Patriots the last two seasons, and recorded 15.5 sacks in 2022. Myles Garrett recorded only a half-sack more than Judon, yet earns more than double his salary. Judon is the typical buy-low, gain-high move that has defined the Patriots since Belichick took over in 2000. These days they are hitting a lower batting average on those moves than ever before.

Maybe O'Brien can turn the passing game around, and the rushing attack will be even better this year than last with Elliott able to spell Rhamondre Stevenson. With Jones receiving some real coaching, he and Belichick may not be as pissed off at each other as they were last season. The defense will likely continue to shine and the Patriots could possibly turn some heads.

That would be considered a successful 2023 for New England, but if Belichick ever wants to reach the heights again that he did with Brady he is going to have to make some changes. In the near future he needs to get in the big free-agent game, and also bring in some fresh blood on his coaching staff. Unless he lucks up on another Brady, Rob Gronkowski, or both, the Patriots will be a middling team for as long as he decides to stay there.