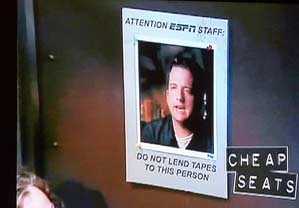 We know, online public opinion has shifted on the guy a bit, but we still like Bill Simmons' chats on ESPN. The guy's pretty quick — even if he's just falling back on the usual schtick, it's comfortable, reliable schtick — and, back before he signed his big ESPN Owns My Soul contract, he used to sneak items past the ESPN censors that they'd inevitably redact later on.
Well, today, Simmons is going for the chat "record" on ESPN, attempting to "break" Rob Neyer's mark of six hours and 37 minutes. That's right, folks; for the first time in years, Simmons might actually put in a real work day today.
Of course, the chat is for charity. And by "charity," we mean "for the Jimmy V Foundation." And by "for charity," we mean "there's a phone number slapped on ESPN stories this week," not "the site's giving ad revenue for the week to the Jimmy V Foundation." Because they're not doing that.
Anyway, the chat starts in 15 minutes; we suspect you could get a head start on the questioning right here.