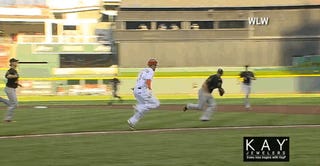 While trying to bunt for a single last night against the Pirates, Billy Hamilton—Cincinnati's red-and-white blur of a center fielder—executed one of the worst bunts imaginable. It's basically a line drive right to first baseman Gaby Sanchez, but Hamilton still made it to first base safely thanks to the threat of his speed and some mid-air contorting.
All Sanchez needed to do was tag him (even given the head start, it's no lock he beats him to first) to put Billy Hamilton on the list of Worst Bunts Ever. But Hamilton said not on this day.
Hamilton pulls out some kind of flying, scissor-kicking swim move to avoid Sanchez's tag and once he regains his footing, he dives safely into first base. Sanchez was left twisting and lunging for Hamilton or the bag, but to no avail. He then scored from first on a double to left field, finely played by Josh Harrison, and it wasn't really close.
As always, speed kills.