As much as we might enjoy the mental image of the Dallas Morning News' Tim McMahon, the Los Angeles Times' Andrew Kamenetzky and True Hoop's Henry Abbott pulling the old crouch-and-shove on a security guard and high-stepping it into the locker room, frantically typing while running around ina circle around a naked Dirk Nowitzki, their actual experience during the Lakers' win over the Mavericks last night was less cinematic. They just weren't let in the Mavericks' locker room, because they use different software than Sam Smith.
Our favorite part about reading the accounts from Kamenetzky, McMahon and Abbott this morning is that Mark Cuban had specifically given their individual names to the man standing guard at the locker room's door.
I asked the PR staff as soon as I got here if I would be allowed in, so there were no surprises. But as it happened, I had to go through the same door later to talk to a Mavericks staffer. And a security guard took a look at my credential, and said, very nicely, "you know you're banned, right?"

I ended up having to loiter with the guard for a while as I got clearance to talk to said staffer. We talked a little. I had heard that before the game tonight they had to distribute lists with the names of the bloggers. And this poor dude was the one stuck with the embarrassing task of enforcing this goofy ban. And as I was small talking to the guy, another staffer — blogger alert! — rushed over to ask the security guard if everything was OK.
Honestly, that guy has the coolest job title of all time: Blogger Wrangler. That has to jump out at you on a resume, you know?
Another fun highlight of blog affaire de Cuban: Tom Jolly, the sports editor of The New York Times, mistakenly thinking he could somehow reason with Cuban. (Mr. Jolly: Don't bother! It doesn't work!)
G/O Media may get a commission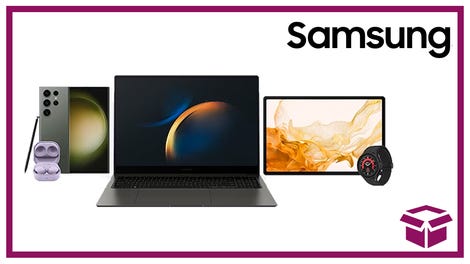 24 hour deals
Discover Samsung - Daily Deal
The real enjoyment of this will be when the Mavericks fall off in the next couple of years, and suddenly the team actually needs bloggers for some coverage. Seem strange? It shouldn't; That's what the Pacers are doing. They're just happy they have people who still care about the Pacers. Someday the Mavs might be in the same position.
Pity The Security Guard [True Hoop]