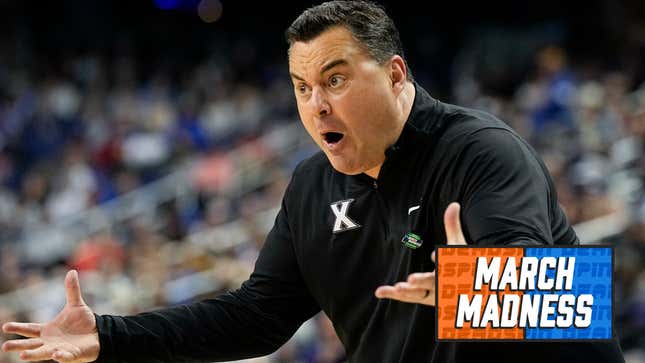 Sunday was a big day for Sean Miller. In his first season, during his second stint at the school, Xavier men's head basketball coach guided the program to its first Sweet 16 since 2017. And to get there, Miller had to beat a school that's near and dear to his heart, the University of Pittsburgh — his alma mater where he starred as a point guard during the late '80s and early '90s. But this isn't about the No. 3 Musketeers' upcoming matchup with No. 2 Texas. It's about Miller — who is white — and his old assistant Book Richardson — who is Black — and about who had to go to prison, and who gets to keep coaching in March.

Sorry if this much-needed history lesson is about to rain on Xavier's parade — they know whom they hired.
"I have an amazing group to work with. There's a lot of coaches that could win with this team, and I recognize that," said Miller as he's back in the Sweet 16 since his last time with the Arizona Wildcats in 2018. "My hope is that we have more in us, that we're able to have a great week and make what we already feel good about even better."
Allegations of bribery at Arizona
Arizona is the key to everything.
"Book [Richardson] was loyal to Sean [Miller]," said middleman Christian Dawkins in HBO's documentary The Scheme. "Arizona was definitely more open to getting some shit done."
"But see, your boy [Miller] promised that he was gonna let [us] work on that deal," Dawkins told Richardson during a call that the FBI was recording. "So we'll see how Sean plays it out. You know what I'm saying? We'll see if he's a man of his word. 'Cause he brought it up to me."
"Yeah, 'cause he need help," Richardson replied. "You know what he doing per month? I told you. Ten."
"Yeah, that's what I'm saying," Dawkins said. "He's putting up some real money for them [players]. He told me he's getting killed."
Dawkins then went on to say, "I'm being told that Sean is the one financing the Deandre Ayton situation." Ayton was the No. 1 overall pick in the 2018 NBA Draft after spending a season playing at Arizona for Miller and Richardson.
"I never have, and I never will," Miller said about paying players when asked about it at a March 2018 news conference.
Eventually, in April of 2021, Miller was fired at Arizona with one year left on his deal, which the school still honored. In 2019, Richardson pled guilty to a felony count of conspiracy to commit bribery after being accused of accepting money from Dawkins to send players to Arizona to play for Miller.
Richardson served three months in prison. Miller was hired by Xavier in 2022 after also being targeted by South Carolina. The Black assistant went to prison. The white head coach took a year off and got a new job. Think about that for a second.
Where is Richardson now?
"For the last five years, I've spent so much time inside my own head," Richardson said last summer in a story by The Athletic's Seth Davis. At the time, Richardson was coaching The Gauchos, a famous youth grassroots program in New York, as for some reason, he's not getting second chances like Miller. "Am I happy? I don't know what happiness is anymore. I wake up and I'm appreciative that God has put breath in my body. I'm just not sure. I miss (college) coaching. It defined me. It probably shouldn't have, but it did."
Earlier this season, ESPN reported that the NCAA had given Richardson a 10-year show-cause penalty for his role in the FBI's bribery investigation into the sport. Curiously enough, the white coach (Miller) was cleared by the NCAA of everything that went down at Arizona.
The two spoke for the first time in December since Richardson got arrested in 2017.
"He said, 'I love you,' and I said, 'I know,'" Richardson reportedly said.
On Friday night, Sean Miller will be trying to get his team to the Elite Eight while Book Richardson will more than likely be watching on TV. And if you don't think race is the reason why Miller found another job while Richardson had to spend time in prison, then you're the reason why "not seeing color" is so hurtful and problematic. This is the real madness of March.