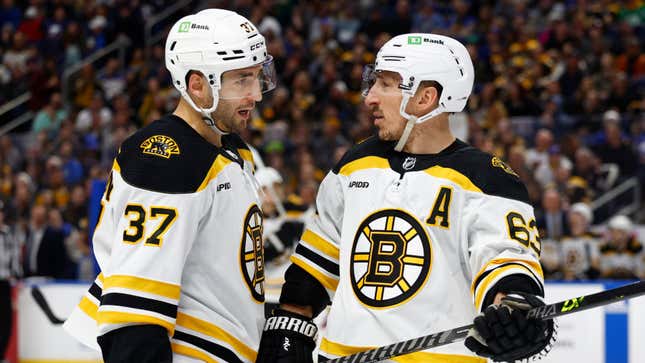 While Gary Bettman might not think there's anything wrong with the current playoff system (he's wrong!), it is pretty clear that this set-up has robbed March and the first half of April of most of its drama. We're basically down to seeing whether a wheezing Penguins team (whoops!) can keep their lunch down just long enough to hold off a thoroughly unimpressive Panthers team out of the wildcard spots, and some seeding issues between the Devils and Canes and the Pacific Division. To be fair, if the NHL were using a conference-based system it wouldn't look too much different than it does now, it would just feel better and make more sense.
What can make the NHL more exciting?
Whatever. Hockey has always been focused on its playoffs, and so shall we be. And the main question this spring will be can anyone derail the unholy force that the Boston Bruins have been? Some would like to focus on the wobble the Bs had at the end of February when they lost three of four, and since then they've gone… 15-3-0. So yeah, that wasn't really a thing.
The Bruins would have to remain pretty scorching to match the record of 132 points in a season (1976-1977 Habs), and may turn off the jets for a rest to fall short of the Lighting's 128 points from four years ago. But it remains that no team will enter the NHL playoffs as big of a favorite and feeling like Godzilla roaming the countryside since that Lightning team as the Bruins will in three weeks' time.
That said, that Lightning team proceeded to perform one of the biggest full-body dry heaves in playoff history when they were swept out of the first round by Columbus. It's hockey, nothing is ever certain and the end is always near. So what might take the Bruins down?
William Regal would say, "Man in the mask"
(I miss my weekly Regal-Excalibur exchanges)
When the Lightning spit up a planet-sized hairball to the Jackets in 2019, the biggest reason was Andrei Vasilevskiy putting up a .856 save percentage. Nothing sinks a great team quicker than a goalie who turns into Stop Making Sense-era David Byrne in net.
Linus Ullmark is probably going to take home the Vezina Trophy, and rightly so. He also has two games worth of experience in the playoffs, which came last year, and they didn't go well. Ullmark wouldn't be the first goalie to follow his first dominant season with something of a whiff in the playoffs. Especially if the Bruins draw the Islanders in the first round, who will sport a possible Vezina runner-up in Ilya Sorokin and the margins might be tight.
Even if Ullmark were to falter, the Bruins have Jeremy Swayman in reserve who has started 30 games and has a .920 save percentage. Swayman played five of the Bruins' seven games in the first round last season against Carolina and was mostly fine with a .911. They're about as buffered as can be against a goalie hiccup, but when things go wrong it's always the first point of investigation in the post-mortem.
The thin small blue line
We're already stretching here, which is an indication of just how solid the Bruins are built. The Bs' success is built on the fleetness and dexterity of their blue-liners, given that they can sport four or five d-men who can really move and are good with the puck since the acquisition of Dmitry Orlov. Most teams might have two, but the Bruins can have a player on the ice for all 60 minutes that can skate themselves and the team out of trouble.
Still, it's not the biggest crew around. So if the Bruins were to come up against, say, a pretty conservative team that was only too happy to continually dump the puck into the Bruins zone and then paste the Bruins' defense up against the boards shift after shift for a whole series (hi there, Islanders), that could get wearisome after five or six games. If nothing else, that would keep the margins in games pretty tight, and when that happens HOCKEY! can turn games over to the underdog for no good reason at all.
Still, it's hard to see this approach working against a team as deep at defense as the Bruins are. Maybe an opponent can make Charlie McAvoy annoyed or hesitant. Maybe even Hampus Lindholm. But the Bs still sport Matt Grzelcyk and Orlov. They almost always will be able to evade third and fourth liners they face and beat them back up the ice to open up things for the forwards. It's a possibility that this could work for portions of games, but not all that likely for a whole series.
Statler and Waldorf are their No. 1 and No. 2 centers
Again, this is another real stretch, given how good Patrice Bergeron and David Krejci have been this season. Boston has backed Bergeron's minutes off this season a touch, he's averaging 11:35 of even-strength time as opposed to being over at least 12 minutes per game for the previous 12 seasons (he's been around a bit!). Krejci's use is also a touch down from most of his career, though he's averaging more time at even-strength than Bergeron, but he doesn't kill penalties anymore.
But hey, they're 37 and 36 respectively, and four rounds and two months of playoff games can be a lot for players far younger. Both of these guys are proven playoff performers, Krejci has somehow managed to lead the playoffs in scoring twice in his career without winning a Conn Smythe Trophy. It was four years ago they were the top two centers for another Bruins team making it to Game 7 of the Final. But four years can be a long time in hockey, and these old bones will have to contend with some combination of Stamkos-Point, Matthews-Tavares/O'Reilly even to just get out of the division, and then Zibenajad-Trocheck of the Rangers, or Hughes-Hischier, or Aho-Staal of Carolina. One does not simply walk out of the Eastern Conference this year.
That doesn't mean Bergeron and Krejci aren't capable of managing it, and there is no better supporting cast. But you'd be hard-pressed to find another team with their top two centers with this much mileage on the odometers going all the way.
Even this weak case could be easily swatted aside when you consider that the Bs might just as well draw the Penguins or Panthers in the first round, each of whom they'd absolutely muller. That would leave whatever's left of whoever crawls out of another death match between the Lightning and Leafs. They could be fresh as a daisy before whoever is left out of the Atlantic Division.
But should it go balls-up, there's the roadmap, kinda.
---
For more inane hockey thoughts or just anti-Olczyk rants, follow Sam Fels on Twitter @Felsgate