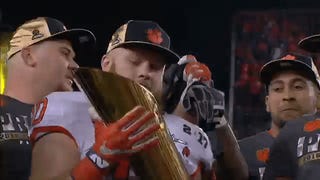 Clemson senior LB and Ben Boulware shared a moment—maybe a little longer than a moment—with the CFP trophy after Clemson's thrilling win over Alabama. You can't rush these things. Trophies need time to get warmed up, and it also helps if they're relaxed, and comfortable, and are genuinely into you. Be responsive! Ask the trophy what it likes! Nothing's too weird if it makes you feel good.
Boulware was named the game's defensive MVP after recording six tackles, two for loss, and two passes broken up. And there's a reason he quarterbacks that defense:
In his postgame speech, Boulware inspired me to bull rush my cat and headbutt my window and jump out and climb a parked car and just start headbanging and wailing on air guitar on top of it. Ben Boulware, life coach.