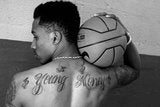 This clip is being presented as "Milwaukee Buck Brandon Jennings performs 38 seconds of Lady Gaga to settle a bet." From BLKICE3's Twitter page early this morning:
@SHANCIEE NAw A bet is a bet......... I'M A MAN ABOUT IT!!!! I STILL GOT MORE GIRLIES THEN U
Additionally, it's an example of what you can do in Wee-Hours Milwaukee and not get hit in the back of the head with a gun. In a literal sense, at least.
Alejandro would've been better.
(H/T H. Gore, You've Been Blinded)