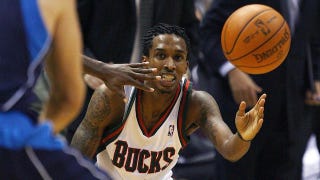 If there was one thing that my high school science teachers taught me, it was that I should immediately lose any delusions about ever becoming a doctor, or doing anything related to memorization or numbers or earth science ever—and I thank them for that. But I think somewhere along the way, I did learn that the earth is not a sphere (like a basketball); it is an oblate spheroid (something like a football).
But I am not an earth scientist or a professional basketball player, so I will forgive Brandon Jennings for this interpretation of the form:
The Bucks guard is getting a delayed start to his third NBA campaign, but he believes he will be playing in Milwaukee this season.

"Of course," he said. "They are going to come to an agreement sooner or later. The world can't go without basketball; the world is shaped like a basketball."
Not quite. But I'd still buy that bumper sticker.
H/T @marcel_mutoni.
Jennings slows down the pace, but he's still playing [Journal Sentinel]