On Saturday night, a man at Turner Field fell from the upper deck during the seventh inning of the Atlanta Braves 3-1 loss to the New York Yankees. He was transferred to the Grady Memorial Hospital and pronounced dead a little after 11 p.m. The man was later identified as Gregory Murrey of Alpharetta, Ga. by the Fulton County Medical Examiners office. He was 60 years old.
Witnesses reported that Murrey stood up to boo Alex Rodriguez when he came to the plate to pinch hit for Luis Severino. He fell from Section 402, which is at the top of the stadium, behind home plate. Murrey landed near the area where players' friends and family were seated. One of the first people to respond to the fall was Brian McCann's mother Sherry, who is a registered nurse. The Braves released the following statement:
The fatal fall was about 85 feet. According to a witness, Murrey fell from the second row and was, "acting belligerently drunk all game." When Rodriguez came to the plate, he arose suddenly to yell something and then slipped and fell over the guardrail. Medical personnel then closed off the area where he fell for investigative purposes. The game was not stopped.
This marks the third death at a ballpark since 2011. In 2013, a 30-year-old man also fell from the 400-level at Turner Field. His death was later ruled a suicide. Two years before that, a man was leaning out over a rail to catch a foul ball that Josh Hamilton was tossing to him and he flipped over the rail.
G/O Media may get a commission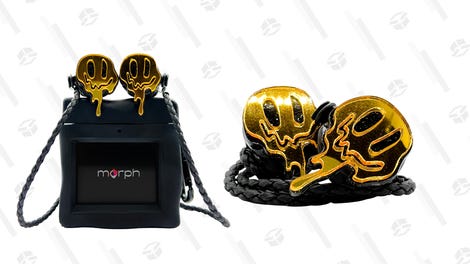 morph audio
Morph Earphones
Photo via John Bazemore/AP