Originally published on Bloomberg View
Brazil's protesters are right: It's a gross misallocation of resources for a country in which 35 percent of the population lives on less than $2 a day to spend billions on a soccer tournament. The government is to blame. But so is the organization that awarded the country the 2014 World Cup in the first place, whipping the football-mad officials of this football-mad nation into a stadium-building frenzy and then, as is its custom, walking away.
FIFA, the sport's global governing body, will tell you it has nothing to do with the civil unrest sweeping Brazil; nobody forced the country to mount its over-the-top bid to host the World Cup. "This is something for the Brazilian government and regional governments to deal with," FIFA's president, Sepp Blatter, said this week. "The only thing that FIFA, can do is offer wonderful football in beautiful stadiums so people can enjoy themselves."
Don't believe him. FIFA has plenty of money to help build those beautiful stadiums. It just chooses not to. It prefers to divvy up its resources among its member federations—the same federations responsible for selecting FIFA's 24-person executive committee.
It's good to see the World Cup migrating away from Europe and into developing countries. There are plenty of intangible benefits—national pride, social cohesion—that come with hosting the tournament. But governments should stop lying about its economic benefits. South Africans were told that the 2010 World Cup would set off a massive wave of capital investment, transforming their country into a first-world nation overnight.
Three years later, the tournament's legacy is basically a bunch of empty soccer stadiums, some in cities that don't even have professional soccer teams.
G/O Media may get a commission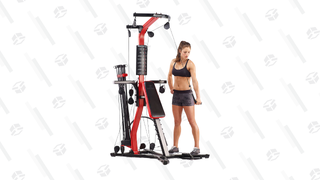 31% Off
Bowflex PR3000 Home Gym
It's one thing for a country like Germany, home of the 2006 Cup, to spend billions hosting a nationwide party: The vast majority of its citizens have access to running water, education and healthcare. (Also, Germany shrewdly planned the construction of new stadiums to bolster its national soccer league, the Bundesliga.) Brazil is an entirely different story. Yet FIFA, which presides over the mountains of cash generated by the world's biggest soccer tournament, doesn't want to pitch in.
Actually, it's worse. FIFA's mercenary approach to awarding Cup sites encourages governments to overspend on giant, state-of-the-art soccer stadiums. What's the solution? "Instead of seeing themselves as owners of a valuable property that they're auctioning to the highest bidder, they should see themselves as trustees of an asset," says soccer economist Stefan Szymanski.
As it happens, FIFA appears to be going a different route, insulating that valuable property from protests by moving it to countries—Russia, 2018; Qatar, 2022—with more money and less democratic accountability.
Jonathan Mahler is a sports columnist for Bloomberg View. A long-time contributor to The New York Times Magazine, he is the author of the best-selling Ladies and Gentlemen, the Bronx Is Burning, The Challenge, and Death Comes to Happy Valley. He's @jonathanmahleron Twitter.
More stories from Bloomberg View: