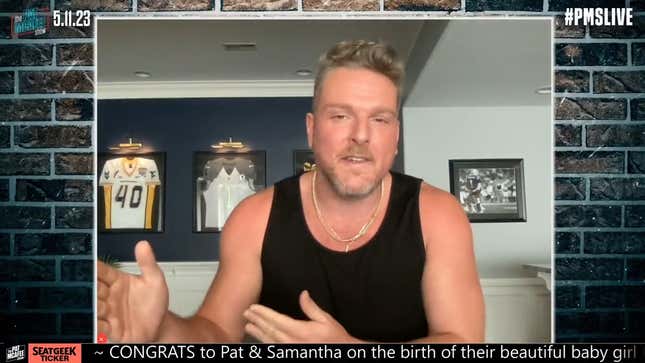 The legal battle between Brett Favre and Pat McAfee has ended. McAfee announced Thursday on his show that Favre has withdrawn his defamation suit against him.
The best wide receiver over 40? | Tom Brady Stats That Will Blow Your Mind
In February, Favre filed the suit against McAfee for statements made on the show about the Hall of Fame quarterback's alleged involvement in the scandal in which $77 million was misappropriated from the Mississippi welfare fund. A scandal that Mississippi Today's Anna Wolfe recently won a 2023 Pulitzer Prize for her reporting on the subject.

Favre has categorically denied having any intention of misusing Mississippi welfare funds. He has not been criminally charged, but in April Circuit Judge Faye Peterson denied his attorney's request for him to be removed from the civil case. The judge deemed the argument from Favre's attorneys to be "unpersuasive and inapplicable."

Favre says he and McAfee would rather 'talk football'
After McAfee spoke on Thursday, Favre tweeted out that litigation between the two was "settled" — although McAfee was emphatic that he paid no money and also when using the word "withdrawn." Favre stated in his tweet, "We'd both much rather talk about football." This came three days after Favre appeared on Newsmax to discuss his tweet about wanting to boycott Fox News over the dismissal of Tucker Carlson. In that interview, he referred to conservatives as "the silent majority."
What McAfee went through is quite similar to what Deadspin had to deal with for a year. We published a piece about former MLB pitcher Trevor Bauer detailing accusations of a vicious assault, of which Bauer has denied any wrongdoing. Bauer's defamation suit against Deadspin was dismissed in March. Bauer is also no longer in MLB.

SLAPP suits
Many defamation suits are what is known as Strategic Lawsuit Against Public Participation (SLAPP). They are filed not necessarily with the intent to win, but to hinder public discussions about alleged wrongdoings. Lawsuits like these are not just limited to news outlets and hosts of popular programs. Powerful people and institutions will use SLAPP lawsuits to go after anyone who portrays them in an unfavorable light.

Last year, Kentucky gubernatorial candidate Eric Deters sued the attorney who filed two suits against him. Not only were Deters' libel suits dismissed, but on Monday he pled guilty to three misdemeanor charges in a separate legal matter. One for menacing and the other two for harassing communications. Deters is alleged to have chased down his nephew in a car, and also sent threatening messages to his sister-in-law.
As of Thursday, no resolution has been reported to have been reached with Favre's defamation suits against Fox Sports' Shannon Sharpe and Mississippi State Auditor Shad White. Since only 31 states and the District of Columbia have anti-SLAPP laws on the books, people will be able to continue to slow down the gears of the American legal system by filing litigation whenever they read or hear something that portrays them in a less than flattering light.

McAfee won this battle, but the war for the proper interpretation of the First Amendment of the Constitution of the United States of America continues.