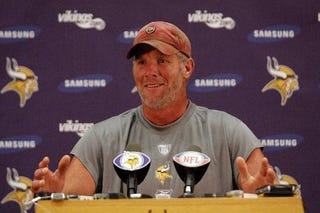 So now Favre says that if he plays again, he'll have to get ankle surgery first. A simple prognosis, yet he manages to shit on both Vikings and Packers fans with it.
You remember that ankle injury, right? The one he suffered in the NFC Championship, all the way back in January? Well, he finally got around to seeing Dr. James Andrews, who told him that he'll need surgery if he wants to play this fall.
NFL minicamps begin today. The Vikings must be absolutely thrilled that Favre waited until now to get this checked out, instead of, you know, three months ago. It's unclear what type of surgery he'll need, or what the recovery time would be, but being ready in time for the season isn't a gimme by any means.
It doesn't appear Favre had told the Vikings about his ankle. Knowing that your presumed starting QB is going to report late, and off of surgery, would be helpful information to have going into the draft and an offseason full of QB movement. Instead, their other options are Tarvaris Jackson, Sage Rosenfels, and a sixth round QB who's probably going to be shifted to receiver. (Note: not-telling-them-about-the-ankle selfishness is separate than the annual not-telling-them-if-he's-going-to-play-at-all selfishness. This year, it's both.)
All of this is moot if Favre decides to retire anyway, which we wouldn't put money on. But he says it's a tough call because of how great Minnesota fans are:
This decision would be easy if not for my teammates and the fans and the entire Vikings staff. One year truly felt like 10 — much like Green Bay for many years. That's what I was missing in my heart I suppose, a sense of belonging.''
Get that? A single year in Minnesota is just as important to him as a decade in Green Bay was. Bet that feels great to hear, Packer fans.
Favre needs surgery to play, QB says [ESPN.com]