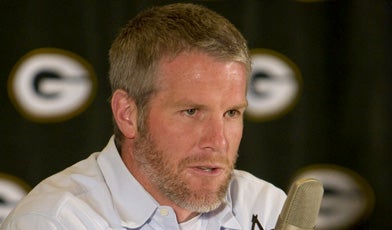 ESPN is once again pushing its "Brett Favre's itchy" story out front, grasping at any and all tenuous confirmations that Brett is strongly considering un-retiring.
The top story on ESPN.com for the past six hours has been "Report: Favre sends text message to Packers GM Thompson", which gives a little credence to Favre's alleged itchiness that the network reported with all of the subtlety of an elephant fart late last week. The story credits several other outlets with breaking the text- messaging news, citing WTMJ-TV in Milwaukee's report that Favre sent a text to Packers GM Ted Thompson on Saturday and that Thompson kindly brushed him off until after he finished his vacation.
This isn't going to end anytime soon, until somebody fesses up in a live press conference. Will Brett Favre actually have to retire again in the span of six months in order to keep these "rumors" from circulating? It appears that's the only thing that ESPN will take as a definitive "no" at this point.
So, what did the text messages say? Kissing Suzy Kolber has its own speculations ( "JK ABOUT RETIRING," "U GOT QB 4 GUNSLNGN?", and "SUX 2B ARRON." ) which, with the way this story is headed, are probably a lot closer to the truth than you'd think.
Report: Favre Sends Text Message To Thompson [ESPN]
A KSK Exclusive: Brett Favre's Secret Text Message [KSK]
Brett Favre: The Packers Don't Want You Back (But ESPN Does!) [Deadspin]