You know all those jokes about French Canada? Turns out the National Assembly of Quebec hasn't heard them yet. This is a completely bizarre story, with obvious law-breaking, party defections, and boondoggles so big you wonder if Halliburton has opened a Québec branch office.
The Montreal Gazette explains:
QUEBEC – In a new twist in the Quebec National Assembly psychodrama over Quebec City's proposed new hockey arena, Premier Jean Charest announced Tuesday that retroactive legislation to make legal a management agreement, giving Quebecor Media Inc. naming rights to the $400-million facility, will not be voted on until the fall.
You can read more about the defections here, but the gist of it is that Quebec City's mayor was so desperate to sign a naming rights contract with Quebecor (which is basically the French Canadian Kabletown) for the arena the city and province have built for a nonexistent NHL team that he broke the law, and then his allies got mad when legislators wouldn't retroactively condone the lawbreaking.
Again: Quebec City and the province of Quebec are plunking down a combined $400 million for a hockey arena. No hockey team has agreed to move there. One hockey team just moved elsewhere (to another recently vacated Canadian market, to boot), and Gary Bettman seems resolute in a) not allowing the Coyotes to leave Phoenix and b) not expanding the number of franchises. Quebec City's mayor, Regis Labeaume, was so desperate to get this boondoggle financed that he skipped a step (asking for public bids) in the naming rights process, and signed an illegal contract. And now, the National Assembly of Quebec has to vote on a bill that would retroactively make the illegal contract legal. Even better, the mayor's lawyers wrote the bill. Fuck appearances, we've got a hockey team to deliver.
G/O Media may get a commission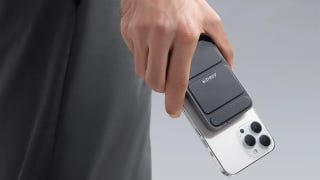 15% off
15% off Anker Top Ten Products
Take charge
Treat yourself to a portable power bank, a magnetic wireless battery for iPhones, or even a solar generator. There is a reason these are in the top ten. For instance, the Anker 747 Power Bank is a 4-in-1 charger utilizing USB-A and USB-C to be capable of charging up to four devices at once. Great to take with you when traveling and in need of keeping your phone, laptop, and even Nintendo Switch powered on.
Pauline Marois, the leader of the Parti Québécois (a party which aims for Quebec's national sovereignty), told her members that they had to vote for the bill making the illegal contract legal, or they had to leave the party. That is to say: get the hell out of the PQ if you're going to try to thwart our ill conceived plan to throw good loonies after bad trying to bring an NHL team here. So four members of the party—the Gazette calls them four of the PQ's "most talented"—quit. Afterward, voting on the bill was postponed until the fall. Think of all the vaguely NHL-friendly illegal contracts Mayor Labeaume can sign by then!
All of this is to say that despite whatever governmental superiority our neighbors to the north might claim, they live in a depressingly pre-Field of Schemes world, in which shelling out for a Team To Be Named Later constitutes a good idea. Drop the romance, and get with it. Also, the official motto of Quebec is "je me souviens"—"I remember." Don't you remember? The Nordiques were terrible.
Charest plot twist: No vote on arena bill [Montreal Gazette]