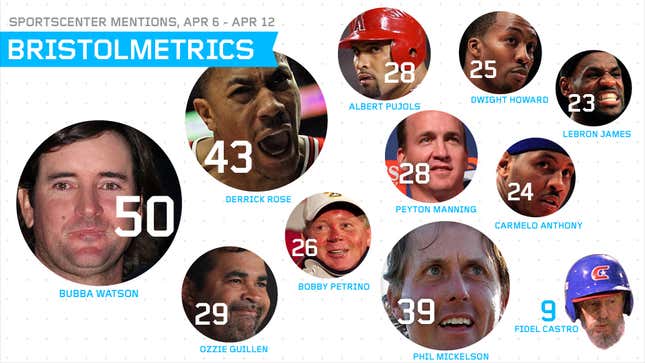 This is a regular feature breaking down, minute-by-minute, the content that appears on ESPN's 11 p.m. edition of SportsCenter throughout the week. Graphic by Jim Cooke.
Is Texas or Florida State a bigger national title contender? | Agree to Disagree
When last we met, Britney Griner was beating the boys, and SportsCenter was left hanging on its men's college basketball championship coverage. What would this week bring?
Total time: 440.75 minutes
Time (minus commercials): 324.25
TIME DEVOTED TO INDIVIDUAL SPORTS
MLB: 95.5 minutes (29.4%) (last week 6.8%)
NBA: 68.5 (21.1%) (last week 19.2%)
Golf: 52.5 (16.2%) (last week 10.5%)
SportsCenter staples (things like the "Top 10," "Encore," "What 2 Watch 4," etc.): 43.5 (11.5%) (last week 14.9%)
NFL: 25.75 (7.9%) (last week 4.5%)
NHL: 15.5 (4.1%) (last week 6.6%)
College football: 10.75 (3.3%) (last week 0.3%)
College basketball: 3.25 minutes (1%) (last week 40.9%)
Other sports: 2.75 (0.9%) (last week 0.5%)
NASCAR: 0 (0%) (last week 0.6%)
MOST-COVERED TEAMS BY SPORT
Chicago Bulls (NBA): 20.25 minutes (6.2%)
Miami Marlins (MLB): 13.25 (4.1%)
Arkansas Razorbacks (college football): 10.75 (3.3%)
New Orleans Saints (NFL): 9.25 (2.9%)
Washington Capitals (NHL): 4 (1.2%)
Baylor Bears (college basketball): 1.25 minutes (0.4%)
MOST-MENTIONED SPORTS FIGURES
Rather than break down the amount of time a specific athlete or figure was covered, we counted how frequently names were mentioned in the transcripts from the week. The 15 most-mentioned sports people for April 6-12:
Bubba Watson: 50
Derrick Rose: 43
Phil Mickelson: 39
Ozzie Guillen: 29
Albert Pujols: 28
Peyton Manning: 28
Bobby Petrino: 26
Dwight Howard: 25
Carmelo Anthony: 24
LeBron James: 23
Tiger Woods: 20
Stan Van Gundy: 18
Fred Couples: 17
Louis Oosthazen: 17
Tony Parker: 16
CUMULATIVE STATISTICS: JAN. 7-APRIL 12
Total time: 6,258.5 minutes
Time (minus commercials): 4721.75
NBA: 1120.75 minutes (23.7%)
College basketball: 1019.75 (21.6%)
NFL: 943.25 (20%)
SportsCenter staples: 688.75(14.6%)
Other: 395.25 (8.4%)
MLB: 281.5 (6%)
NHL: 154.25 (3.3%)
College football: 118.25 (2.5%)
Notes
The Cuban revolution is still a big deal: Of the 13.25 minutes that SportsCenter devoted to the Miami Marlins this week, eight minutes were dedicated to Ozzie Guillen's comments about Fidel Castro—the comments themselves, the backlash in Miami's Cuban-American community (including interviews with residents calling for the manager's job), Guillen's apology, and finally, his five-game suspension. Fidel Castro got nine mentions on the program this week, as many as Kobe Bryant received.
As seen recently in its initial reaction to the Trayvon Martin shooting, ESPN purposefully avoids getting in the middle of a political firestorm, leaving them in an awkward position when politics becomes a major story. What did this mean for viewers? It meant ESPN analysts had to try to explain the relations between the U.S. and Cuba nearly every time the story came up, which was magical.
The Masters is more important than any one golfer: Lesser golf tournaments may vanish from SportsCenter as soon as Tiger Woods falls off the leaderboard. But despite Woods's disappearance from the Masters' leaders after Thursday, ESPN—exclusive home of the first two rounds from Augusta—spent more than 50 minutes of the program on the tournament. Besides the green jacket, champion Bubba Watson got to try on the full Tiger Woods treatment: a Tom Rinaldi puff piece on Sunday, followed by a turn as the subject of the lengthy sit-down Sunday Conversation interview.
The Worldwide Leader brought in a new hockey analyst: Anaheim Ducks head coach Bruce Boudreau joined SportsCenter and helped provide some analysis for some playoff hockey highlights this week. It's not unusual in sports to see a coach from an eliminated team doing studio work during the playoffs. For the NHL though, this was a special event: The first time this year that SportsCenter brought in anyone other than Barry Melrose to talk hockey.