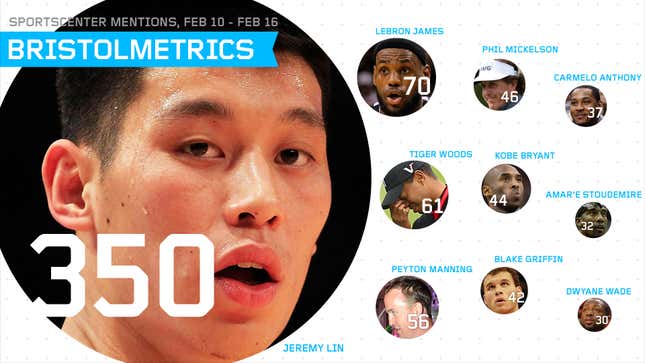 This is a regular feature breaking down, minute-by-minute, the content that appears on ESPN's 11 p.m. edition of SportsCenter throughout the week. Graphic by Jim Cooke.
Jokic? Embiid? The NBA MVP is obvious... right? | Keep it a Buck(et)
When last we met, we were starting to see the early onset of Linsanity. What happened next? SportsCenter went and mentioned Jeremy Lin 350 times in a single week. That's nearly one mention per minute, if you're scoring at home (or even if you're not humping a Fathead poster of Jeremy Lin).
Total time: 500.5 minutes
Time (minus commercials): 378.25
TIME DEVOTED TO INDIVIDUAL SPORTS
NBA: 148.75 minutes (39.3%) (last week 22.8%)
College basketball: 68.25 (18%) (last week 23%)
NFL: 40.75 (10.8%) (last week 36.8%)
Golf: 19.5 (5.2%) (last week 1.9 %)
NHL: 15.75 (4.2%) (last week 2%)
MLB: 12.75 (3.4%) (last week 0.8%)
College football: 4.75 (1.3%) (last week 0%)
Other sports: 7.25 (1.9%) (last week 0.3%)
SportsCenter staples (things like the "Top 10," "Encore," "What 2 Watch 4," etc.): 60.5 (16%) (last week 12.4%)
G/O Media may get a commission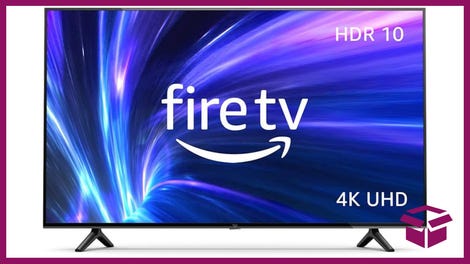 42% Off
Amazon Fire TV 50" 4K Smart TV
MOST-COVERED TEAMS BY SPORT
New York Knicks (NBA): 58.5 (15.5%)
Indianapolis Colts (NFL): 21.25 minutes (5.6%)
Duke Blue Devils (college basketball): 12.75 (3.4%)
Detroit Red Wings (NHL): 5.75 (1.5%)
Penn State Nittany Lions (college football): 3.25 (0.9%)
Oakland Athletics (MLB): 1.25 (0.3%)
MOST-MENTIONED ATHLETES
Rather than break down the amount of time a specific sports figure was covered, we counted how frequently names were mentioned in the transcripts from the week. The 15 most-mentioned sports people for Feb. 10-16:
Jeremy Lin: 350 mentions
LeBron James: 70
Tiger Woods: 61
Peyton Manning: 56
Phil Mickelson: 46
Kobe Bryant: 44
Blake Griffin: 42
Carmelo Anthony: 37
Amar'e Stoudemire: 32
Dwyane Wade: 30
Chris Paul: 26
Jim Irsay: 24
Rajon Rondo: 23
Tim Tebow: 22
Randy Moss: 20
CUMULATIVE STATISTICS: JAN 7-FEB 16
Total time: 2,579.5 minutes
Time (minus commercials): 1,952.25
NFL: 617.25 minutes (31.6%)
NBA: 465.75 (23.9%)
College basketball: 316 (16.2%)
SportsCenter staples: 252 (12.9%)
College football: 100.5 (5.1%)
NHL: 54.25 (2.8%)
MLB: 46.5 (2.4%)
Other: 100 (5.1%)
Notes
It's a Linfestation!: Lin's 350 mentions destroyed the record of 154 mentions set by Tim Tebow in the first edition of Bristolmetrics. That shakes out to 0.93 Jeremy Lin mentions per minute. Jeremy Lin's name was uttered more times than "if" (132) or "but" (241); his last name alone was mentioned 291 times, more than "are" (229), "be" (216), or "what" (207). Lin was discussed so much that Carmelo Anthony moved into the ranks of the most-mentioned athletes despite not playing a game since Feb. 6—all 37 mentions of Anthony came in the context of discussing whether or not his return would ruin the Lin magic.
Let's express this another way: The NHL needed six weeks to log more than 50 minutes total of SportsCenter airtime; in a single week, the Knicks got 58.5 minutes all by themselves. The saddest thing I witnessed this week, amid the joy of Linsanity, was NHL analyst Barry Melrose giving over his meager share of airtime to talk about Jeremy Lin with Linda Cohn. Poor Barry.
It's not even overkill, really. Linsanity is a great story, and it happened to arrive during a relatively boring sports month in the biggest media market in the country. Saturation coverage was inevitable, and not at all unwarranted. A lot of people make facile comparisons to Tebowmania, but I don't see it. Tebowmania was a media event. The coverage of Tebow was primarily coverage of the coverage of Tebow. Lin is a still-unfolding surprise. Even the most reductive version of his story—guy parachutes in from the minors and plays a brilliant point guard for a team that didn't have a competent one—is the sort of thing that ESPN has all but rendered extinct. No one comes out of nowhere anymore.
You got your Tebow in my Lin: Even though the two stories have very little in common, ESPN couldn't stop themselves from trying to combine the forces of Linsanity and Tebowmania. Tebow was mentioned 22 times this week; 20 of those mentions involved Jeremy Lin. Thanks to ESPN, we now know what Lin thinks of Tebow (he's a fan), and what Tebow thinks of Lin (he's a fan, too).
The NFL has finally been dethroned: All it took was for its season to end. Yet even with the season over, ESPN still managed to talk about professional football for 40 minutes this week. Every talking point (Peyton Manning's future, whether Andrew Luck or Robert Griffin III will go No. 1 in the draft, where Randy Moss will end up) was speculative in nature. The only new news we heard about Peyton Manning was that the Colts hoped to keep him and that he may have had additional surgery on his neck a few months ago. ESPN essentially manufactured its own football storylines for the week.
ESPN likes golf when Tiger and Phil are involved: With both golfers in contention at Pebble Beach last weekend, SportsCenter spent more time than normal covering the sport. Sunday's show gave 9.5 minutes to Mickelson's come-from-behind victory, along with some analysis on why Tiger was unable to stay close to Phil for most of the round. ESPN also sent national reporter Colleen Dominguez to Pebble Beach for the duration of the tournament, where she produced several lengthy stories on Saturday and Sunday. Without Tiger or Phil, the tournament probably gets a minute of highlights. With them, it gets more coverage than baseball.
We have our first Mel Kiper sighting of 2012: The NFL draft guru and his partner, Todd McShay, gave us their top quarterback and wide receiver prospects—based, no doubt, on their extensive work in the Draft Lab. This is what the Draft Lab looks like. There are beakers. The draft is more than two months away.