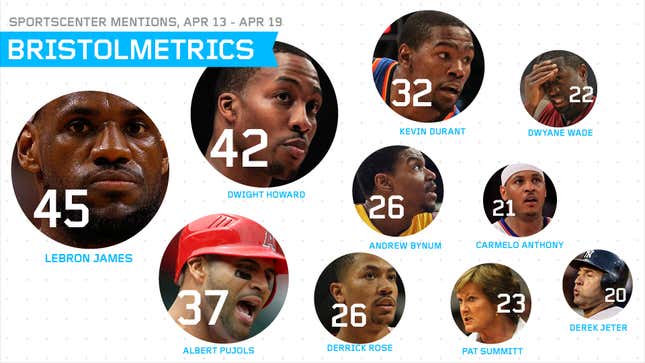 This is a regular feature breaking down, minute-by-minute, the content that appears on ESPN's 11 p.m. edition of SportsCenter throughout the week. Graphic by Jim Cooke.
How running an NFL team is like running a restaurant | Chef Emeril Lagasse
When last we met, ESPN was discussing the finer points of the Cuban Revolution (thanks to Ozzie Guillen), the Masters was doing nicely without much help from Tiger, and hockey had become important enough to merit a new studio analyst. What would this week bring?
Total time: 484.75 minutes
Time (minus commercials): 356
TIME DEVOTED TO INDIVIDUAL SPORTS
MLB: 111 minutes (31.1%) (last week 29.4%)
NBA: 77.25 (21.7%) (last week 21.1%)
NHL: 55.25 (15.5%) (last week 4.1%)
SportsCenter staples (things like the "Top 10," "Encore," "What 2 Watch 4," etc.): 52.5 (14.8%) (last week 11.5%)
NFL: 21.75 (6.1%) (last week 7.9%)
College basketball: 14 minutes (3.9%) (last week 1 %)
College football: 10.75 (1.4%) (last week 3.3%)
NASCAR: 9.25 (2.6%) (last week 0%)
Other sports: 7 (2%) (last week 0.9%)
Golf: 3 (0.8%) (last week 16.2%)
MOST-COVERED TEAMS BY SPORT
Pittsburgh Penguins (NHL): 15.5 minutes (4.4%)
Boston Red Sox (MLB): 13 (3.7%)
New York Knicks and Miami Heat (tie) (NBA): 11 (3.1%)
Tennessee Volunteers [women] (college basketball): 11 (3.1%)
New Orleans Saints (NFL): 5.25 (1.5%)
Alabama Crimson Tide (college football): 1.5 (0.4%)
MOST-MENTIONED SPORTS FIGURES
Rather than break down the amount of time a specific athlete or figure was covered, we counted how frequently names were mentioned in the transcripts from the week. The 15 most-mentioned sports people for April 13-19:
LeBron James: 45
Dwight Howard: 42
Albert Pujols: 37
Kevin Durant: 32
Andrew Bynum: 26
Derrick Rose: 26
Pat Summitt: 23
Dwayne Wade: 22
Carmelo Anthony: 21
Derek Jeter: 20
Russell Westbrook: 19
Stan Van Gundy: 18
Drew Brees: 18
Matt Kemp: 17
Blake Griffin: 16
CUMULATIVE STATISTICS: JAN. 7-APRIL 19
Total time: 6,258.5 minutes
Time (minus commercials): 4721.75
NBA: 1198 minutes (23.6%)
College basketball: 1033.75 420.%)
NFL:. 965 (19%)
SportsCenter staples: 688.75(14.6%)
Other: 414.5 (8.2%)
MLB: 392.5 (7.7%)
NHL: 209.5 (4.1%)
College football: 123.25 (2.5%)
Notes
Hockey (finally) arrives on the scene: Thanks to some of the controversial hits, suspensions, and close games during the first round of the Stanley Cup playoffs, hockey saw its best week to date on SportsCenter. The 55.25 minutes of coverage the NHL received was more than its cumulative coverage—53.75 minutes—from Jan. 7 to Feb. 16. Hockey got more than twice as much coverage as the NFL, though the NFL was having a busy week of offseason. And the Pittsburgh Penguins were the first NHL team to be the most-discussed sports team of the week.
Golf vanished after Augusta: With most of the big names on tour taking the week off after the Masters, golf got three minutes of coverage, one minute of which was dedicated to an alligator venturing onto a course.
Crisis in Boston means good times in Bristol: The Red Sox got 13 minutes of coverage—only 5 minutes of which was spent on game highlights. The rest was Fenway soap opera: Bobby Valentine's jab at Kevin Youkulis, Dustin Pedroia's response to Valentine, the saga of Terry Francona potentially skipping the ballpark's birthday ceremony on Saturday, and the vital question of who is to blame for the team's horrendous start. Was this ESPN or NESN?