Simon Brodkin is a British actor/comedian/prankster who plays, among other characters, a soccer player named Jason Bent. Brodkin, dressed in character as Bent, got amongst team England on a private tarmac at Luton Airport and tried to board the plane the squad was taking to Miami as they begin training for the World Cup.
There's some debate as to whether he was actually caught, or if he instead outed himself, but he was taken away for questioning by police. According to the The Daily Mail, team captain Steven Gerrard spotted Brodkin and pointed him out.
Dressed in an identical suit to those worn by the England travelling party and brandishing a passport, Brodkin spent several moments in close proximity to the players before he appeared to be spotted first by captain Steven Gerrard, after which members of security and local police intervened.
The Telegraph makes it sound like Brodkin got Gerrard's attention and let himself get caught:
Brodkin waved his passport at security staff as the players made their way from a coach to a private hangar ready to board the plane and it is understood that he protested to Gerrard, complaining about not being included by manager Roy Hodgson in the squad for Brazil.
Glen Johnson and the majority of his colleagues saw the funny side of the stunt, but others looked on dumbstruck as police and guards surrounded him and ushered him away for questioning.
G/O Media may get a commission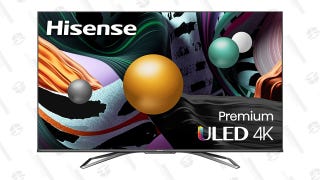 Save $350
Hisense ULED 65" Android 4K HDR Smart TV
Brodkin, who is also confusingly referred to as Lee Nelson, another role of his, has a Twitter account for his soccer player character and everything. The profile claims he is a Premier League player as well as a player on England's national team. He also made news last year when he was arrested for getting on the pitch during warm ups of a Manchester City game, again in character as Jason Bent.
Photo via @Jason9Bent
World Cup 2014: Comedian Simon Brodkin tries to gatecrash England squad's departure [Telegraph]
Lee Nelson leaves England squad confused after trying to join them on Miami trip [Daily Mail]