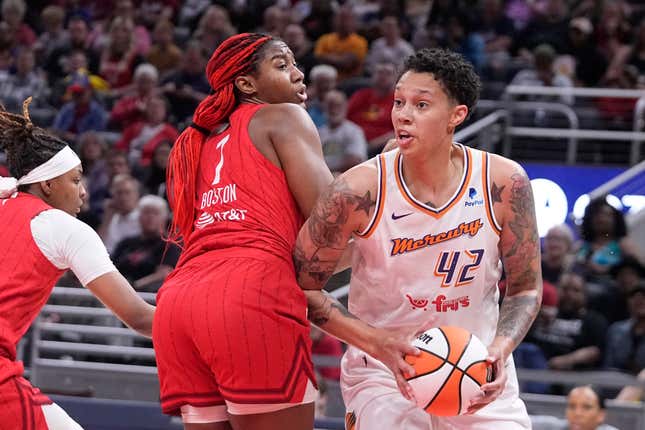 Brittney Griner is back in the news — but she didn't have to be. Over the last few days, conversations about women's basketball dominated the sports world after Griner was harassed at Dallas-Fort Worth International Airport by a Blaze Media YouTube personality — a white man. What came next was a renewed conversation about the need for universal chartered flights. However, none of this would have happened if the WNBA was treated like a white league.
Salute to Maya Moore | The SEO Show
Like most things in America, and on this planet, race has always been at the heart of this matter. And despite the "travel adjustments" that could be on the way for Griner and the Phoenix Mercury — and other teams around the league — if things are going to improve in the WNBA, it'll start by finally addressing the elephant that's been in the room since Day One. Which is that white women get treated better than Black women in society.

If you want to make a league that's dominated by queer Black women better, then treat every player as you would a blonde-haired, blue-eyed, straight white woman — and watch how quickly, and drastically, things change. Privilege provides instantaneous results.
Beyond the fact that Griner's skin color and sexuality played a huge role in her being jailed in Russia, and the discussion about whether or not she was "worthy" of what it took to bring her home, the underbelly of the WNBA resembles society in its preference for longing for more white stars.
This league would love it if Sabrina Ionescu became the player they wanted her to be. And that's not a shot at Ionescu, who's really good. But, let's not act like what she looks like doesn't play a factor in her popularity. If the WNBA was full of Sabina Ionescus then it would be an easier sell.
"We've moved the chains, but we're not nearly as successful as we could be if we were invested in more," Dawn Staley told ESPN last year when discussing the "30 for 30" documentary Dream On, about how the 1996 U.S. Women's Olympic team she was on helped launch the WNBA. "Women's basketball has been successful despite what's often bare-minimum investment. We're looking for more and more opportunities."
A real-life example of that is the fanfare and popularity of the U.S. Women's National Soccer Team compared to the women's basketball team. In July of 2021, of the 18 women that made up Team USA's soccer roster, only two of them were Black. It was the opposite for basketball, as nine of the 12 members of their roster were Black. The team was also coached by Staley, making her the first Black woman to ever coach Team USA's women's senior team. The women's basketball team hasn't lost in the Olympics since 1992, but yet, Carli Lloyd, and Megan Rapinoe's squad was the women's team that was getting a bigger push.
"Playing for Team USA means a lot because as Black people, we don't get that love from our country," Lisa Leslie said of her blackness in the documentary, as reported by Jezebel. "In those moments, people are just people, human beings. They cheer and they celebrate together without judging. If you could see the beauty in me, then maybe you could see it in another Black woman."
For all of the positives thing that the WNBA has done over the years, overwhelmingly all of them are connected to work that's been done by Black women. Let's not forget that Kelly Loeffler was once an NBA owner and that Las Vegas Aces head coach Becky Hammon — a white woman — had to serve a two-game suspension without pay due to comments she made to All-Star forward Dearica Hamby — a Black woman — about her pregnancy.
And you wonder why Dr. Jill Biden initially wanted to welcome Caitlin Clark and Iowa to the White House to share in Angel Reese and LSU's moment.
The WNBA's player union is one of the most powerful in sports, and they proved that by helping get Raphael Warnock elected when he defeated Loeffler in the 2021 Georgia Senate runoff race. But yet, Cathy Engelbert is still the league's commissioner. And she's a woman that doesn't do well with social issues.
"I think we would evaluate it across what our global games platform looks like," Engelbert said about WNBA considering playing a game in Saudi Arabia just days after the PGA chose money over morals and partnered with LIV Golf. "It wouldn't be the first place I went, for sure, but we had this opportunity in Canada, Europe, Asia, and Africa."

And just last summer at the WNBA All-Star Game in Chicago, Engelbert said that a Chance the Rapper concert for WNBA Live was not open to the public because of fears due to gun violence. However, a spokesperson from the Chicago Police Department told WTTW that they didn't advise Engelbert, or the league, to limit outdoor events, including the concert.
So, yes, this is about Brittney Griner, and the need for WNBA owners to stop being cheap when it comes to chartering flights for their teams. But, it's mainly about how the WNBA always has been and always will be, dominated by a group of people that the league, and society don't want to properly cater to — Black women. Maybe that's why so many people were so shocked when Kelsey Plum received such a puny trophy from Cathy Engelbert after winning MVP of the 2022 All-Star Game. Because if this league would give a white woman something like that, just imagine how they really feel about Black women behind closed doors.