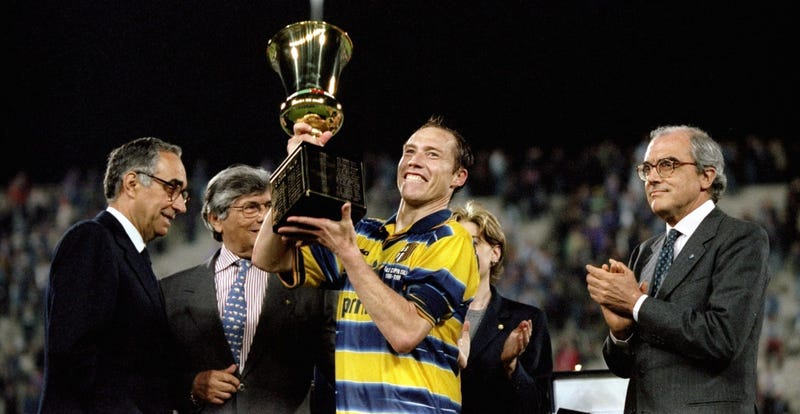 This is about as sad a set of circumstances as you'll see in soccer.
We thought we'd seen the lowest moments for Parma last season, when the then-Serie A club drowned in an ocean of debt and was battered about by nearly every team in the league as they struggled to scrounge up enough change to even hold matches. Now, after being declared bankrupt and relegated to Italy's fourth tier as punishment for running the club aground financially, they are frantically searching for any way to scrounge up some money. They've locked eyes with their trophy cabinet.
Here's the Guardian, reporting on where the club has turned to after sliding their hands through the couch cushions for the 32nd time and coming up with nothing:
Official administrators Angelo Anedda and Alberto Guiotto have put the following trophies up for sale: three Coppa Italias won in 1992, 1999 and 2002, the Cup Winners' Cup from 1993, the 1994 European Super Cup, the Uefa Cups of 1995 and 1999 and the 1999 Italian Super Cup.
UEFA has a rule in place against selling trophies without federation's approval, so even this desperate attempt at raising money might fail. While the club itself was fortunate to avoid being dissolved permanently in bankruptcy, it's quite possible they end up losing large parts of their history anyway.
[Guardian]