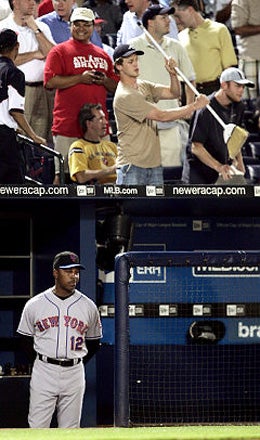 Their logo is politically incorrect, their manager is a noted wife puncher and their broadcasters are notorious homers, and I mean all of that in the nicest possible way. But today there is no denying the unstoppable force that is the Atlanta Braves, who completed a four-game sweep of the New York Metrosexuals on Thursday with a 4-2 triumph. And now your Mets Choke wallpaper is more relevant than ever, no?
I seem to recall New York bringing in Johan Santana for just the exact losing streak-stopping duties he faced on Thursday. But instead of applying pressure directly to the wound and keeping the patient's head elevated, Santana left the back door of the ambulance open and let him roll out onto the highway. Seventh inning, game tied, runners at first and third with one out, the Braves' Chipper Jones at the plate facing Santana. As Short Round said in Indiana Jones and the Temple of Doom: "Hang on lady, we going for a ride!" Jones (batting average .412) delivered an opposite-field single to give Atlanta the lead. Here are some telling pitching stats from Braves Blast:
"Braves starters combined lines? 4 Wins, 27 Innings Pitched, 18 Hits, 4 Earned Runs, 3 Walks, 16 Strikeouts, 3 Home Runs Allowed. Compare that to the Mets and their starters' combined lines: 4 Losses, 20 Innings Pitched, 33 Hits, 17 Earned Runs, 8 Walks, 6 Strikeouts, 1 Home Runs Allowed."
And to give you an idea of what the locals think of Willie Randolph's job security, the Post has been linking to the same Randolph's Job In Jeopardy story since May 16.
• Hurricane Andrew. Meanwhile, a raucous crowd of 13,233 at Dolphin Stadium (I think there were more people at Robert Downey Jr.'s last intervention) watched the Marlins complete a three-game sweep of the Diamondbacks, Florida winning 4-0. Andrew Miller (4-3) gave up five hits over seven innings as Arizona was shut out for the first time this season.
• Grand Finale. J.D. Drew and Mike Lowell became the first to hit grand slams in the same game at Fenway Park since 1984 (Bill Buckner and Tony Armas), as the Red Sox went 7-0 in their homestand with an 11-8 win over the Royals. Daisuke Matsuzaka (8-0) was the winner.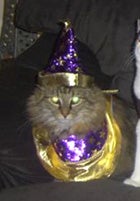 • Wizard Cat Defensive Player Of The Day. Jeremy Reed's Glove, Seattle Mariners. Reed's glove makes a great catch over the fence to rob the Tigers' Brandon Inge of a home run in the ... hey what happened? Where's the glove? Reed, you're supposed to hold onto it! Jesus, now it's a home run. Oh well, the umpires will overturn it in a minute and call it a ground rule double. Wizard Cat give this catch: 0 wands.
It's Friday, and that means it's time for Wizard Cat's mailbag! (Wizard Cat is a cat, and cannot read. Email will not be read to him).
• Can you come up with a magic spell that will make the Braves win on the road? Either that or finding a way to get Chuck James out of the rotation? Thanks! — Alfino
• Wizard Cat, Long time reader, first time emailer. What's the deal with airplane food? — Thanks, Tim.
• Dear Wizard Cat, Who tastes better, Barbaro or Eight Belles? — formerly Chief Wahoo
• Dear Wizard Cat: How do I get my boyfriend to commit? — Daddy's Girl Jess
• Wizard Cat, What do you plan to do about that feline hack Necromancer Pussy? She's doing an advice column on Jezebel. — RachelRayIsTheDevil
• Wizzy, (i will continue to purvey this nickname) can God make a rock that he cannot lift? — Laser Guided
• Wizard Cat, my friend knows this girl, and if you are interested, here is her picture. *NSFW* — Shop Smart, Shop S-Mart
• Wizard Cat, the water in my toilet is sooo cold! Could you cast a spell to give me longer legs? — David Hume
• Dear Wizard Cat, Without the aid of magic or a falicitic device, how can the Padres get rid of their tight ass problem? — Very truly yours, CN.
Dear Wizard Cat, Please stop using your voodoo curses on Jason Isringhausen. — Love, C_W
• Yo. — Patrick J. Stevenson.
Contact Wizard Cat at Wizardcat@live.com. Happy Memorial Day, everyone!