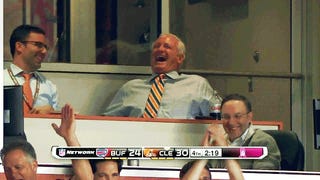 The Browns are getting new uniforms and team president Alec Scheiner is really jazzed about them. Good news for the fans: it doesn't sound like they are going to be the uniform equivalent of a telephone for old people, like Tampa Bay's new look. Bad news: they're going to have to wait until an unspecified time next year to see them. Scheiner thinks it's going to be worth the wait, though, and fans are really going to like the "cutting edge uniforms that link back to our history."
Scheiner was on with Bull and Fox in Cleveland and discussed many other things, including the the front office upheaval and the team's ticket prices, which haven't changed in six years ("...six years, that's incredible, I mean no one's doing that these days."). Still, the uniform tease is the most interesting bit from the interview.
Even though the hosts fed him the term "cutting edge," Scheiner agrees and says they will also be linked back to the franchise's history. As you can see, that history is mostly brown with a little orange. Will these be new-look Browns or just gussied up versions of the same old look? You probably don't need to wait the year.
Alec Scheiner Says "I Can't Say I'm Totally Surprised" With Recent Changes [CBS]