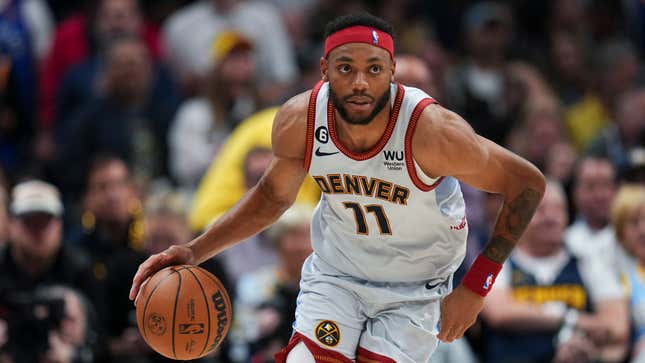 Free agency and the drama surrounding it in the NBA officially begins Friday at 6 pm EST. We've already heard of some of the trades set in motion and rumors about certain free agents and where they might end up, but June 30 is when the frenzy really jumps off. The Los Angeles Lakers will be in the spotlight as usual since they have players to make decisions on and are rumored to be seriously interested in a particular player from a Western conference competitor.

As Mike Singer of the Denver Post reported, the Lakers have "significant interest" in signing Bruce Brown away from the NBA Champion Denver Nuggets. Brown was instrumental off the bench in the Nuggets' 2022-23 title run. Potentially signing Brown could be an either-or scenario based on other free agents on LA's roster.
Notable Laker free agents include D'Angelo Russell, Dennis Schroder, Austin Reaves, Rui Hahcimura, Malik Beasley (team option), and Austin Reaves. Hachimura and Reaves are restricted, so the Lakers can match any offer extended to either player. Russell became nearly unplayable in the postseason, so Lakers fans are aggressively calling for his dismissal.
The top priorities for the Lakers should be keeping Hachimura and Reaves in the fold, and if they can add Brown to the fold, that's a pretty good haul. The Lakers surprisingly landed themselves in the Western Conference Finals and need to keep their supporting cast as formidable as possible. Bringing Brown on board will go a long way in ensuring the depth of this roster.
However, the move most of Lakers nation, especially LeBron James, would love to make is probably a pipe dream. LA making a play for Kyrie Irving was one of the hottest rumors during the second half of the NBA season. But the odds of it happening are slim unless the Lakers can figure out some roster reconfiguration quickly in order to make the necessary salary cap space. Having three stars is great, but you need depth, as we've seen with recent "super teams" in Brooklyn and Phoenix.