La Salle upset Kansas State today, driving Deadspin writers into a frenzy and ruining brackets for those of you foolish enough to trust Bruce Weber to do anything right. He did, for what it's worth, try for a last-second strategy play. Too bad nobody noticed.
This should in no way be controversial, because Kansas State had its chances and squandered them; La Salle played great and the Explorers deserve their trip to the round of 32. There's no doubt, though, the Wildcats should have been given a timeout with about three seconds remaining. I mean, look at Weber: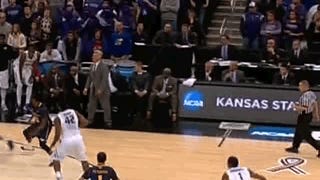 Bruce Weber: failing to get anyone's attention since 2005.