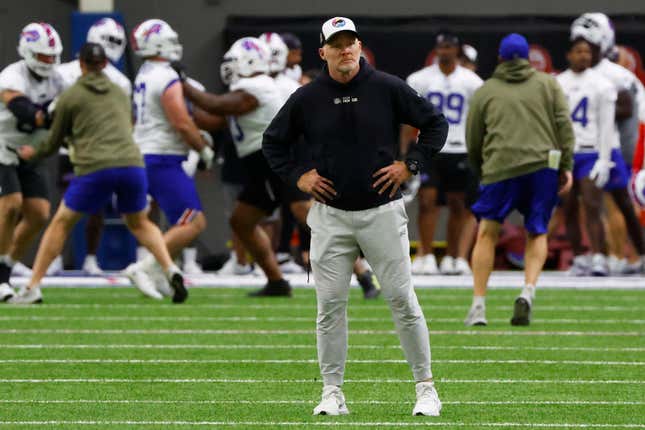 What a strange and unnecessary situation for a team with Super Bowl aspirations. Of course, NFL news must run every hour of every day. It's more consistent than the satisfaction of a peanut butter and jelly sandwich. For the Buffalo Bills though, Stefon Diggs not taking the field for mandatory minicamp practice became a topic worth addressing for two consecutive days.
The Bills or Chiefs will win the Super Bowl | Agree to Disagree
Diggs did not practice on Tuesday, but he did hit the field on Wednesday. Concerns were raised when Sean McDermott was asked about Diggs not practicing on Tuesday and he said that it was "very concerning." That is quite the take on a star player missing practice in mid-June.

McDermott took another question on the matter, and when the second follow-up question came he shut the topic down. Unfortunately for him, the can had already been popped and there was no putting the fizz back in at this point. So when he was asked on Tuesday whether or not the absence was excused, if the answer was yes he should have said it then.

His getting defensive at that particular question raised antennas. Diggs' agent talked on the record to Adam Schefter, saying that the wide receiver has been at the facility since minicamp began, took his physical, and met with McDermott.

Josh Allen does damage control
Josh Allen even felt the need to do some damage control. He talked to the media about getting Diggs more involved in the offense this season than he was at times in 2022, and that there was some internal communication that was taking place.

Then came McDermott's media availability on Wednesday when he attempted to put the carbonation back into the soda by discussing that internal communication.

"Stef did everything that he was asked to do," McDermott said to the media. "He was here Monday, and executed his physical on time. Stef reported yesterday, Tuesday, and reported for meetings. At which time we had a good conversation. Great communication and we got to a point yesterday where we just felt like we all needed a break, and some space…

"Let me make it clear it was not Stef leaving unexcused. He was excused by me."
Maybe that internal communication left both Diggs and McDermott a little hot under the collar yesterday, but the head coach has to understand when a no comment at the wrong time will lead to the media and other observers thinking the worst.

If he had simply said that at Tuesday's practice that he and Diggs talked, the Bills could have spent half as much time in the news cycle on a story that no one would remember come September.

Not only did McDermott feel the need to clean up his comments from Tuesday, but now if he and Diggs have a disagreement on the sidelines come autumn, these two days from June will be revisited by the media.

McDermott has done an excellent job as head coach, but this whole mini-mess was avoidable. He didn't have to even lie about it. He could have chosen not to discuss it, or if he was going to take a couple of questions on the matter, offer more clarity than suspicious smoke.

Don't expect any more melodrama out of Buffalo this week. A good decision has been made. Per Schefter, Thursday — the Bills' final minicamp practice — has been canceled.