The Buffalo sports media can't wait to blast Terrell Owens for shooting his mouth off to reporters—only he hasn't done that yet, so they'll just have to blast him for being polite instead. Wait — what?
Rather than hoot and holler and tear the locker room apart after Monday night's loss to New England, T.O. huddled silently in his locker, declining to speak with reporters. Surly as he was, many people appreciated T.O.'s coyness. Jerry Sullivan, a columnist hungry for inflammatory sound bites, was not one of those people.
Sullivan, who apparently knows nothing about Terrell Owens, became indignant when T.O. failed to inspire tearful Bills with "comforting words" or uplifting rhetoric or something. Seriously.
When the Bills signed Terrell Owens, we were told he would be a leader for a young team, a better teammate than we realized, a star who would bring some straight talk and swagger to the locker room.

So I had looked forward to hearing T.O. speak after his first real game as a Bill. And after Monday night's 25-24 loss to the Patriots, a lot of the media were eager to hear what the iconic receiver would say, what comforting words he would offer to his team and fans.
The answer was nothing. Owens pulled the old silent act after Buffalo blew a late 11-point lead in New England. He took a pass. The kind you can't drop.

"You're wasting your time," Owens told a horde of reporters at his locker. "I have nothing to say."
Sullivan goes on to speculate as to why T.O. took a pass. The kind you can't drop:
Perhaps T.O. concluded it wasn't in his self-interest to speak. Maybe he had to clear it with those two female advisers, to make certain it didn't compromise his well-crafted public image.

We could only guess how Owens felt about the painful loss, or his own meager contributions to the offense. Maybe he was afraid he might be goaded into griping about the fact that only four balls were thrown in his direction.

Still, it was weak. Owens has sold himself as a personality, a guy who commands people's attention. He got a key to the city. He has his own reality TV show. The reality after Monday's game was that he lacked the decency to stand and face the music after a tough loss.

[...]

They say Owens is a great teammate. But once the real games began, T.O. wasn't all about the team. He was, as we'd been warned, all about himself.
G/O Media may get a commission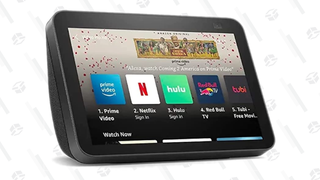 So T.O — who apparently has a "well-crafted public image" as a good sport that no one but Sullivan has seen — is already a malcontent because he didn't mumble a few clichés to the media. Someone here is certainly all about himself, only it's not Owens.
Sullivan: As a leader, T.O. dropped the ball [The Buffalo News]