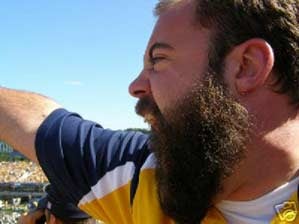 The guy in this picture is not famed West F—-in' Virginia fan The Mighty MJD, though we wish it were. It's "bragg-mcdowell," and he's selling his beard on eBay.
He's appealing to other West Virginia fans, so we'll just assume he's able to sell it. We appreciate the mindset.
My lovely beard would like a new home after the Fiesta Bowl, but we can make arrangements for after basketball season, if you would like. I will keep growing it for the lucky Mountaineer fan that has the highest bid. The beard has served coach Huggins well this season. I will try to get coach Huggins to touch it at the Oklahoma vs. WVU game on 12.29.2007. I will take a picture for proof of the touch, and you will get a copy.
We love the idea of him increasing the value of his beard by having Bob Huggins touch it. That increases the value of everything.
WVU Fan's Beard [eBay]