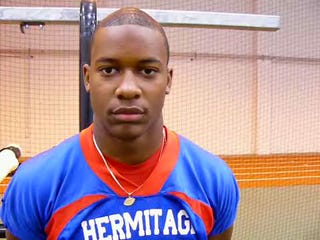 Virginia Coach Mike London is in trouble not because he sent recruit Curtis Grant a Facebook message, but because he didn't do it secretly. Oh, and the actual message is pretty weird, in a NAMBLA kind of way.
Here's the harmless, if creepy post London left on Grant's Facebook wall:
Mike London:
Thanks for coming up Saturday It was good seeing you even though that tight fitting black T on. LOL no but again always good seeing you
coach L
April 11 at 5:12pm
Curtis Grant
Hahaha.,I had to look big
4/11 at 8:51pm
For some reason, it's okay to send private messages to recruits on Facebook, but not okay to post them on the prospect's wall. Virginia is self-reporting their violation.
While it is permissible per NCAA bylaws to privately message a prospect on Facebook, it is not permissible to publicly post a message on their wall," [assistant AD Steve] Flippen said in the e-mail. "In my discussions with coach London, he believed he was sending a private message but mistakenly posted on the prospect's wall.
Does this strike anyone else as kind of a strange distinction? It's perfectly permissible to contact the kid as much as you want, just as long as the rest of the world doesn't know you're talking to him? Actually, knowing that would have saved USC a lot of grief.
U.Va. self-reports secondary recruiting violation for Facebook post [Daily Press]