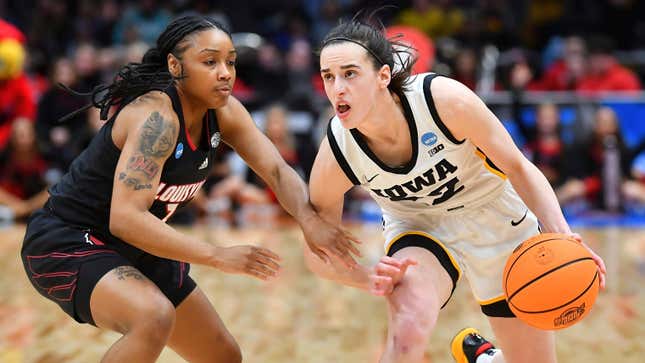 There's a big phenomenon when conversing about sports to find the next big thing, or who a younger athlete could become when she or he reaches their potential. Kobe Bryant or LeBron James having a Michael Jordan-like arch dominated conversations for over a decade. The name of baseball's next great power hitter in the post-steroids era is still up for grabs. And as I was watching Iowa's Caitlin Clark absolutely pick apart a stout Louisville team in the NCAA Tournament's Elite Eight on Sunday, I couldn't think of a great comparison. She's truly one of a kind that'll break basketball's mold after she retires.
Top 5 single digit scorers in NBA history
The best basketball comparison is Steph Curry. The production looks the same, their presence is similar, and how opponents defend them, mostly unsuccessfully, has comparable qualities. Yet, it's plain to see how Clark and Curry play the position completely differently. Just as Mike Epps has joked, Curry plays the game like a 10-year-old with how he hoists the ball in the air and runs around the court. He's the best perimeter shooter to ever hold a basketball, so that blacktop, free-flowing nature works for him. Clark's game is much more refined, more like an assassin carefully, yet diabolically, picking her spots. Clark just calls her own number frequently, evidenced by her 41 points, 10 rebounds, 12 assists, three steals, and 8-for-14 clip from beyond the arc in the win over the Cardinals. Those video-game numbers were the first 40-point triple-double in an NCAA Tournament game ever, men or women.
Then it hit me when I mentioned video games, as I think one day Clark will follow in the footsteps of Candace Parker, Sue Bird, and Diana Taurasi to be a cover athlete for 2K or another basketball game. Joe Burrow is primed to be a cover athlete for the Madden franchise in the next few years. And I think he's the proper comparison for Clark. His personality is flashy, but it's business and nothing other-worldly on the battlefield. Those traits are executed to a level where you know you can put an entire game plan behind them delivering on the field. Clark is the exact same type of athlete. A comparison at all could be seen as unneeded, as Clark can stand alone as one-of-one. It makes it easier to recognize her greatness with contemporaries.
Much like Burrow's professional career, he's been close to a championship but hasn't lifted the Lombardi Trophy. Clark is two wins away from bringing an NCAA Tournament championship to the Big Ten, a rare sight these days. Burrow did win a college championship with LSU and Clark looks poised to dominate the WNBA whenever she decides to leave Iowa City. And just like Burrow's time with the Bengals, Clark will likely have to go through the biggest behemoth in her respective sport to get to the title. Burrow slayed the Patrick Mahomes giant once but lost in the Super Bowl. Earlier this year, he couldn't repeat that feat. Undefeated South Carolina women's basketball has to go through Maryland to get to the Final Four on Monday night, but did you read the first word of this sentence? As great as the Terps are, they've lost six more games than the Gamecocks have all year at 28-6, including a 25-point blowout at the hands of Dawn Staley's team four months ago.
Of course, there are similarities between a quarterback and a point guard in how they facilitate offense. If there's an offensive position for Iowa where Clark doesn't touch the ball, it's probably a fast break she's not involved in. The best quality about both Burrow and Clark is how they both elevate everyone around them. They understand the spotlight is the brightest on them and don't shy away from it. And in Clark's case, last night's performance will only add to her status as one of the best college basketball players of all time. And if anyone can take down South Carolina, it'll be Iowa on the backs of another legendary game from the Mayor of Iowa City.