You're a smart enough football fan to know to ignore the initial numbers announced with any new contract, especially for QBs. The NFL's creative accounting oftens lead to deals that barely resemble the press release. Colin Kaepernick's "record" megadeal makes him extremely disposable. Andy Dalton's "six-year" contract is essentially for two years. Both of Tom Brady's most recent restructurings, which were sold as pay cuts to help out the team, actually gave him more money.
So what to make of Cam Newton's new extension, which will ostensibly pay him $118.47 million through 2020? While both those numbers are more or less imaginary and were announced to please agents and fans, this deal is no smoke and mirrors. This is a significant investment with significant outlay.
Some details have now been reported. Newton's contract comes with $31 million fully guaranteed, most of that paid out in a massive signing bonus. There is a total $60 million guaranteed for injury, so if something catastrophic happens to Newton, he's still set. These guarantees, spread out over the first three years of a deal that purports to make Newton one of the few $20M AAV players in the NFL, make that claim legit—at least for the first three seasons. With the amount of money the Panthers are offering up front, things would have to go remarkably sour for them to bail on Newton before then.
It's a hefty payout for those first three years, too. Per Albert Breer, Newton will receive a $22.5M signing bonus, plus a $7.5M roster bonus later this week. His base salary for 2015 will be a modest $1 million, for cap purposes, but that still adds up to $31 million for this season.
G/O Media may get a commission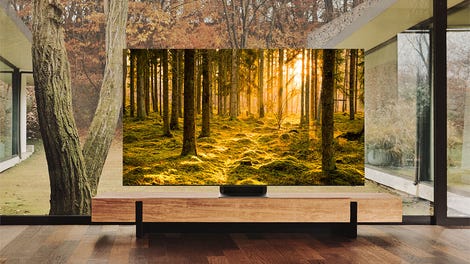 Up to 40% off
Samsung Smart TVs
Here's what years two and three look like:
(This is probably the simplest and most accurate way to look at the deal—as a three-year contract, more than likely to be renegotiated when the guarantees run out.)
That's actually a remarkable amount. As pointed out by Breer, it'd be the second-largest three-year payout in NFL history, trailing only Peyton Manning's 2011 Colts deal. (Manning underwent neck surgery that offseason, and never played a snap under the contract.)
The Panthers, taking advantage of the NFL's byzantine salary cap rules, avoided hamstringing themselves even with the frontloaded numbers. According to Jason La Canfora, Newton's cap hit won't exceed $20 million until 2019, by which time his contract will either have been renegotiated, or the league cap will have increased to a point where $20 million is no big thing.
Again, don't expect Newton to still be playing under this contract come 2019. If he keeps up his play, he'll be worth way more by then, and will want a new deal to replace the year-by-year one this will become once the guarantees run out. But in the meantime, Carolina is paying Cam Newton big money to quarterback the Panthers for at least the next three seasons. Given NFL turnover, that's a significant commitment.