Apparently the Magic have a third round bye, because to hear people tell it, LeBron was all alone out there last night.
A shiny nickel to the reader who can find me a sports section in the country (west of Hartford) whose back page even mentions the Celtics. No, today and the next 47 days are all about LeBron. Where's he going? What's in his head? How'd he do so poorly?
Well, the thing is, he didn't do particularly poorly. His career playoff numbers 29.3/8.4/7.3 match up quite favorably with his line from this series: 26.8/9.3/7.2. But that's not much help when your second leading scorer is Shaq, your second leading rebounder is Antawn Jamison, and your PG is only second in assists.
But I'm pretty sure I saw some green jerseys on the court this series. And it's simplistic and disrespectful to frame the story of this round as "LeBron beat himself."
First off, let's not pretend that James's 3-of-14 and 8-of-21 shooting nights came out of nowhere. The Cavs, who averaged 102 point per game in the regular season, were off by seven points in this series. Credit goes to Tom Thibodeau, defensive mastermind, who just guaranteed himself a head coaching gig in Atlanta or Chicago next season.
G/O Media may get a commission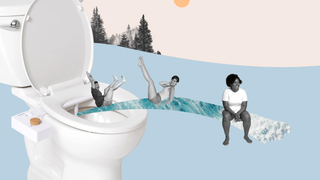 17% off
Tushy 3.0 Warm Water Spa Bidet Attachment
But the Celtics did work on their end too. Let's not forget Rajon Rondo averaging 13.7/6.3/11.8 — he was the best player out there for the last three games of this series. Let's not overlook Kevin Garnett coming alive for the first time this season. Let's not ignore the total team effort; the three top scorers not named LeBron (and four of the top five) were all Celtics.
An individual can take over the game in basketball more than any other sport, but that doesn't change the fact that it's still a team game. For the last three games, the Celtics were the best team in the league.
So, no, the Cavs didn't just "lose." They got beat, just flat-out beat. And for those last three games, when it mattered more than it had all year, the Celtics outplayed them so completely that we're not ready to hand the Eastern Conference to Orlando just yet. Now, the Western Conference finals are a different story: that's clearly just Kobe vs. his own legacy.