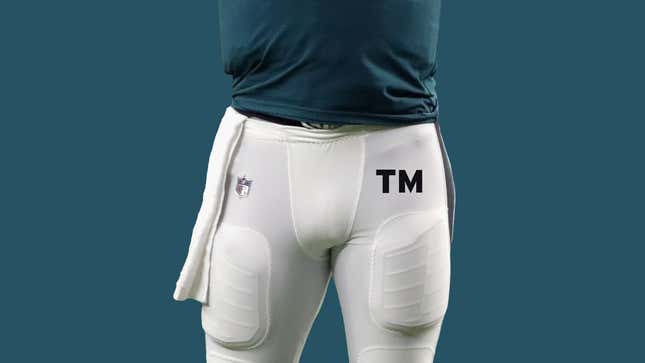 As Nick Foles delivered the performance of his life in the most important game he'd ever played, Austin Meeks and John Robinson had an idea.

Aaron Rodgers should go full Joe Namath | Comedian Bert Kreischer
Foles ended up winning Super Bowl MVP in a game where he threw three touchdowns and caught another. By the time he collected his awards, Meeks and Robinson, who watched the Super Bowl in Atlanta, had filed their mark with the U.S. Trademark Office. They wanted to trademark the phrase "Big Dick Nick."
It's not just a clever rhyme. Back in 2014, then-Eagles defensive end Connor Barwin said Foles had the biggest dick on the Eagles. And while the QB with an alleged enormous hog was leading his team to its first Super Bowl ever, Meeks and Robinson came up with a plan.
"Let me be honest with you," Robinson says. "I'm a Falcons fan. I didn't think the Eagles were going to win the Super Bowl. But as it looked like they might, we came up with the idea."
Robinson says that "Big Dick Nick" is "a phrase that really seems to resonate with people—even before the Super Bowl."
Meeks and Robinson don't have the trademark yet, but they're already selling "Big Dick Nick" merchandise. Much of it is sub-bootleg quality, but the idea of a "Big Dick Nick" beach towel is at least kinda clever.
The Atlanta duo is the only applicant for the "Big Dick Nick" trademark, but they weren't alone in trying to cash in on the Eagles' Super Bowl win. After Doug Pederson revealed that the Eagles' trick play pass to Foles was called "Philly Special," multiple people attempted to trademark it — including Philly-area brewer Yuengling.
Unfortunately for those people, the Eagles also filed a trademark for Philly Special. The U.S. Patent and Trademark Office will, most likely, award the trademark to the Eagles. (Yuengling already dropped its "Philly Special" trademark intent.)
Nick Foles hasn't filed a trademark for "Big Dick Nick," and he probably won't. So does this duo actually have a chance to trademark the phrase?
Maybe, says Charles Riddle. He operates Esquire Trademarks, an intellectual property service law firm. When contacted by Deadspin, Riddle actually sent over not one but two long documents relating to the possibility of trademarking "Big Dick Nick." Normally you have to pay for this kind of service!
Until recently, section Section 2(a) of the Trademark Act prohibited the registration of "disparaging, immoral, or scandalous marks." But two court cases last year—involving an Asian-American dance rock band (The Slants) and a clothing company (FUCT)—eliminated that section. Austin and Robinson cleared the first hurdle for their trademark with others doing the work.
That doesn't mean their trademark is a shoo-in, however: It also has to deal with the many, many previous trademark applications for "Big Dick." Riddle counted 49 previous trademarks for that term, with two still alive in the apparel category (the same type as the "Big Dick Nick" trademark app).
Riddle theorized the trademark office would reject the application based on its similarity to Big Dick. But he also called that nonsense. He wrote to Deadspin (emphasis his):
When analyzing trademarks for confusion, differences in meaning and commercial context must not be ignored. This is where BIG DICK NICK prevails. When you hear or see the words BIG DICK NICK, you know exactly what the deal is. The phrase BIG DICK NICK will forever be embedded in the sports world's conscience as referring to the Superbowl LII Philadelphia Eagles, and Quarterback Nick Foles in particular. For millions of people, the phrase immediately evokes Nick Foles and the Philadelphia Eagles. The public record is replete with evidence of this connotation / association. In contrast, when one hears the words BIG DICK alone, a completely different connotation is reached.
He's right—Big Dick is one thing, but Big Dick Nick is another. So while the USPTO could still rule against Meeks and Robinson, they sure seem to have grounds for an appeal.
There's still one more barrier for the pair. Section 2(c) of the Trademark Act bars registering names without the consent of the individual. Things like "Obama Pajama" and "Princess Kate" were rejected by the trademark office, Riddle said. He adds that, basically, Meeks and Robinson would need to convince the trademark office while Nick Foles may have been Super Bowl MVP, he isn't that famous:
The Trademark Office has a low threshold to reject the application. The Examining Attorney must make a prima face showing that the public would understand BIG DICK NICK as referring to Mr. Foles. I think the Examining Attorney has enough evidence to make that showing. Rebuttal is up to the applicant. Here, the applicant should argue (1) Mr. Foles isn't among the super-famous like Obama and Kate Middleton, and (2) Mr. Foles is not in the business of producing apparel. Therefore, reasonable consumers are not likely to think Mr. Foles is the producer of the apparel.
That sounds right, too, insofar as nobody buying a "Big Dick Nick" t-shirt is going to think Foles had a hand in it.
Those are the hurdles, but let's say their trademark application is approved. What good does it do? A trademark doesn't magically stop another entity from using it without the threat of enforcement behind it. "These are probably just guys who thought, 'Hey, I had a great idea,'" Riddle says, correctly guessing they had no experience in trademark law or the apparel business. "Say they got the trademark, and 100 other people started selling shirts with 'Big Dick Nick' on it or whatever. What resources are they going to have to stop it? Lawyers aren't going to take this case on contingency."
He did have a prediction for this trademark application: "What generally happens in these cases is someone tries to trademark something that's famous and they get a rejection they don't really understand, and they say, 'Eh, I give up.'"
But Meeks and Robinson think the interest in trademarking "Philly Special" shows there is a marketing opportunity here.
"We'd be going after that same customer base that they're trying to go after," Meeks says. "So this could be a very, very large thing. And I think it's going to last for a while."
Who's to say that he's not right? Right now, Big Dick Nick is indeed a very, very large thing. And it could last for a while.