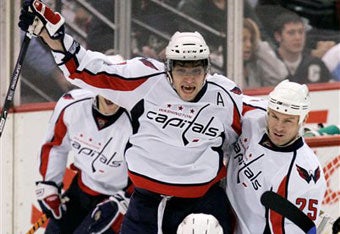 The highly-touted matchup between Washington and Pittsburgh mostly lived up to its billing. The teams still hate each other and the play was intense, but the Caps eventually put the Penguins to bed, 6-3.
The game was tied after two periods, but Alexander Ovechkin scored two goals and an assist in the third period as Washington handed the Penguins yet another defeat. They've lost eight of their last ten, are slowly sinking out of the playoff race, and if that wasn't bad enough Sidney Crosby left the game in the third after a collision along the boards. But other than that, things are great.
As for the Malkin/Ovechkin feud, no blood was spilled, but the pair did mix it up a bit and Alex's rather excitable reaction after his first goal suggests that he really, really wanted to win. Or he needed to pee. Either way.
Elsewhere...
Detroit 4, Anaheim 3: The Red Wings scored two goals 35 seconds apart in the third period to beat the Ducks on the road and move within three points of San Jose for the conference lead.
Ottawa 3, Atlanta 2: The Thrashers have lost 12 of their 14 games ... at home. For the first time in a month, Ottawa has a whopping two-game winning streak. Let's just move on.
Chicago 4, Buffalo 1: The Blackhawks shut down the Sabres, but lost defenseman Duncan Keith to a hard hit. Wasn't he the manager of the Partridge Family or something?
Highlights of all Games [NHL.tv]
Crosby hurt in painful loss to Capitals [Post-Gazette]